Don't you just love recipes that don't require multiple bowls? In this case, all you need is a blender and you are good to go!
Blueberries For The Win!
Don't be fooled by the size of this fruit. It packs a lot of nutrients and is very versatile. You can use fresh or frozen in most recipes. Their natural sweetness makes them a popular addition to smoothies and baking. We love incorporating blueberries in any therapeutic diet and you can find many other blueberry recipes on our website like our Banana Blueberry Oat Muffin, our Pistachio Blueberry Muesli, and our Chocolate Blueberry Pancakes. We hope you enjoy this newest recipe: our Blender Blueberry Pancakes.
Blueberries are high in various phytochemicals, including large amounts of anthocyanins.  Anthocyanins are a flavonoid that gives the blueberry its deep purple colour. It is a great antioxidant that contributes to the overall health benefits of blueberries, including a reduced risk of cardiovascular disease, death, and type 2 diabetes, and improved weight maintenance and neuroprotection.
Adding blueberries and other purple vegetables and fruits to your daily diet is an easy and delicious way to improve your overall health.
Click clv-blender-blueberry-pancake for the printable version of this recipe.
6 servings
Prep time: 10 minutes
Cook time: 4-6 minutes per pancake
What you need:
2 cups oats*
2 cups oat milk (or any other non-dairy milk)
2 ripe medium bananas
2 large eggs
2 tsp baking powder
2 cups fresh or frozen blueberries
3 tbsp chia seeds
2 tbsp ghee or coconut oil
*You can use 2 cups of oat flour instead.
What you do:
Add the oats to a high-speed blender and blend until you get a flour consistency, about 20 seconds. Add the milk, bananas, eggs, and baking powder. Continue blending until you have a homogenous batter. Remember to scrape the sides a few times to ensure you use up all the flour.
Gently stir in the blueberries and chia seeds. If the batter is too thick, add a bit of milk. If it is too thin, add more oats.
Heat the ghee or coconut oil in a non-stick pan over medium heat. Pour 1/4 cup of the batter at a time and cook for two to three minutes per side, or until cooked through. Each pancake should be about 4 inches wide. Transfer to a plate and keep warm. Repeat until all the batter is used up.
Divide onto plates and enjoy with your favourite topping.
Nutrient Information Per Serving:
Fat 11g     Carbs 39g     Fibre 7g     Sugar 11g     Protein 8g
Culinary Tips:
These will keep well in the refrigerator for a few days or in the freezer for a few months.
One serving is 3-4 pancakes.
Feel free to use your favourite toppings of fresh fruits, maple syrup, non-dairy yogurt, nut or seed butter, etc.
Add more flavour to your batter by adding cinnamon, vanilla, or other spices.
You can substitute applesauce for the ripe bananas.
Bon appétit!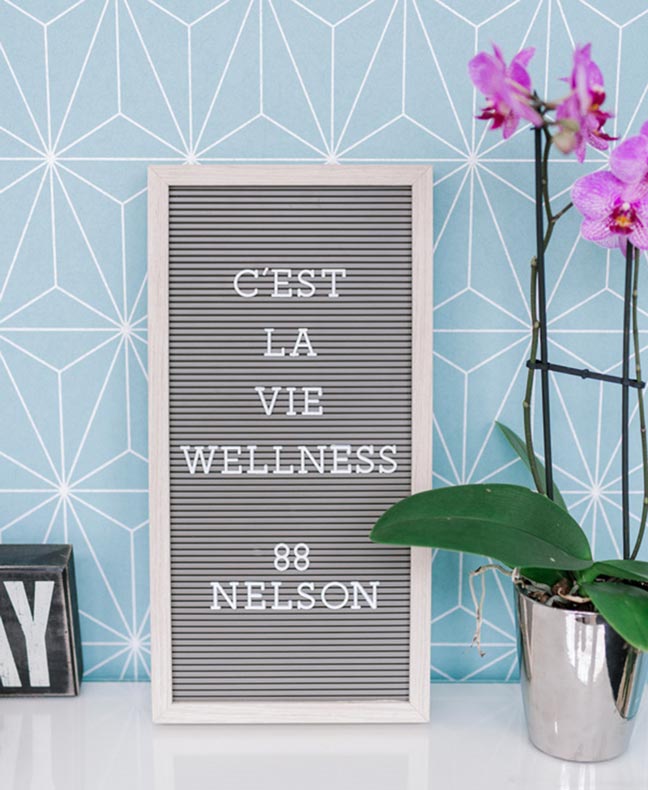 When it comes to food, the whole C'est La Vie Wellness team is on board. Some of us love to create while others enjoy testing some of our latest creations. Enjoy trying these recipes and please share pictures on your social media…and make sure to tag us! Bon appétit!