Summer is here and fresh corn on the cob is everywhere. Buy a dozen, cook them all, eat what you can, then use the leftover cooked corn in this delicious Vegan Corn Chowder. How do we get that creaminess without using any dairy? We combine some cooked corn and cauliflower with some coconut cream (or coconut milk) and voilà! A beautiful Creamy Vegan Corn Chowder is the result.
Corn – Should You Avoid It?
If you look at a list of inflammatory foods, corn usually makes the cut because of its high-sugar content. However, it doesn't mean that it is unhealthy if eaten in moderation. Here are a few interesting facts about corn (Source: Eating on the Wild Side by Jo Robinson):
The ancestor of corn was called Teosinte, a native plant of central Mexico. It was very hard and starchy but it contained 2x the protein of today's corn.
Corn supplies 25% of the calories consumed by the world's population.
Choose colourful corn to get the most nutrients: deep yellow, red, blue, black, or purple. Blue corn and multicoloured "indian" corn contain more nutrients, especially anthocyanins which are powerful antioxidants. Choose the deepest yellow corn as they contain 58 times more beta-carotene, lutein and zeaxanthin than white corn.
Choose old-fashioned or moderately sweet corn. Some of our modern varieties of corn contain up to 40% sugar.
Steam, grill, or microwave corn. Boiling it will leach out many of the nutrients. Keep the husk on when cooking but remove the silk.
Frozen corn can be as nutritious as fresh corn.
Buy organic corn to reduce your exposure to pesticides and to ensure it is non-GMO.
Corn is a whole grain therefore it is a good source of fibre. 1 cup of corn will provide almost 5 grams of fibre as well as good amounts of vitamin C, thiamine (B1), Folate (B9), Magnesium and Potassium.
Corn – Enjoy It In Moderation
If you have Type 2 Diabetes or struggle with blood sugar imbalances and weight gain, you may need to limit your corn consumption because of its high starchy carb content. Eaten in moderation with good amounts of healthy fats and protein, corn can be part of a healthy diet.
If you like corn recipes, check these recipes on our website: Chili Corn Soup, and Nacho Soup.
Click vegan-corn-chowder for the printable version of this recipe.
6 servings
Prep time: 20 minutes
Cook time: 20 minutes
What you need:
2 tbsp coconut or avocado oil
1 large onion, finely chopped
2 cloves garlic, minced
2 large carrots, diced
1 large potato, diced
2 stalks celery, diced
1 tsp onion powder
1 tsp garlic powder
1/2 tsp salt
1 tsp paprika
3-4 cups broth (enough to cover the vegetables)
2 cups cooked cauliflower florets, divided
3 cups cooked corn, divided
1 400ml can coconut milk or coconut cream
1 red pepper, diced
1/2 cup fresh parsley, finely chopped
What you do:
Melt the ghee in a large saucepan. Add the onion and garlic. Cook on medium heat until onions are soft.
Add the carrots, potato, celery, and spices. Mix and cook for a few minutes. Add enough broth to cover all the vegetables well. Bring to a boil and then simmer for 15 minutes or until vegetables are soft.
Meanwhile, prepare the cream sauce by combining 1 cup of cooked cauliflower, 1 cup of cooked corn, and the coconut milk (or cream). Blend in a blender until you have a nice creamy consistency.
Add the red pepper, the leftover cooked cauliflower and cooked corn, the parsley and the creamy mix to the chowder. Mix well. Simmer another 5 minutes. Taste and adjust seasonings. Enjoy!
Nutrient Information Per Serving:
Fat 18g     Carbs 34g     Fibre 6g     Sugar 10g     Protein 6g
Culinary Tips:
More protein: add some beans, cooked salmon, or cooked chicken to your soup.
Broth: You can use bone broth, vegetable broth, or chicken broth in this recipe.
Fresh herbs: You can also add fresh cilantro, thyme or oregano to this chowder.
Extra flavour: Cook the cauliflower by roasting in the oven before adding to the soup.
Bon appétit!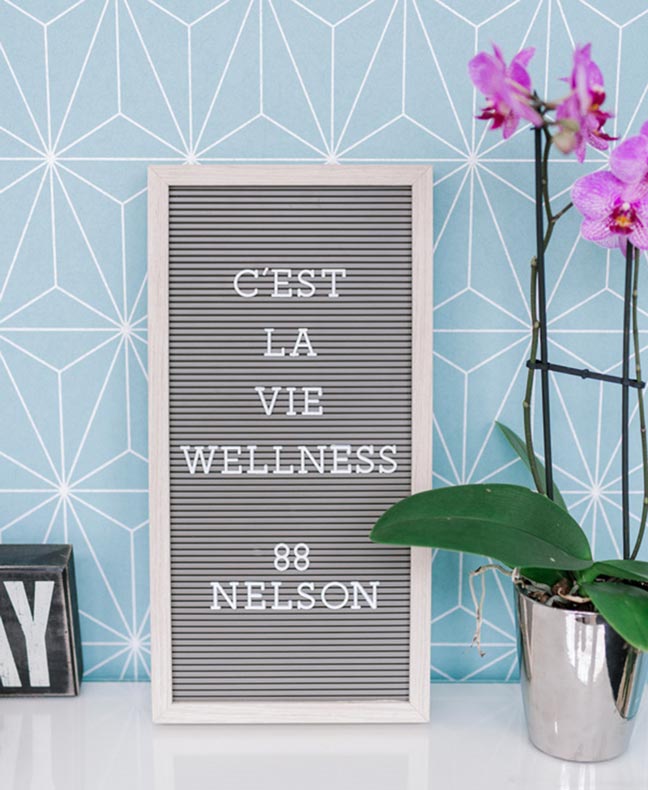 When it comes to food, the whole C'est La Vie Wellness team is on board. Some of us love to create while others enjoy testing some of our latest creations. Enjoy trying these recipes and please share pictures on your social media…and make sure to tag us! Bon appétit!