Winter has settled in and we crave comfort and warming foods. Soups are certainly a favourite and we love this newest version that uses root vegetables that are accessible and usually local. Feel free to mix and match various root vegetables such as potatoes, yams, turnips, rutabaga, carrots, parsnips, fennel, celeriac, beets, etc. And let's not forget other root vegetables that are staples in soups such as onions, garlic, and fresh ginger.  In this version we used a combo of rutabaga and sweet potatoes. But feel free to experiment with whatever root vegetables you have on hand.
Adding some various spices, lime and coconut milk to this soup is what gives it a distinct thai curry flavour.
Eat Your Roots
Root vegetables are starchy vegetables that grow underneath the soil. They are basically the root of the plant. It is like a storage organ that provides the plant with all the nutrients it will need to thrive. The beauty of root vegetables is that they can usually keep for a long time so we can continue to eat them long after they were harvested.
Root vegetables provide a good source of complex carbohydrate, which means a good source of fibre. In this soup, we used sweet potatoes and rutabaga. Sweet potatoes are an excellent source of vitamin A and C as well a good source of various minerals such as potassium, copper and manganese. Rutabagas are an excellent source of vitamin C, potassium, fibre, and various antioxidants.
Check out these other soup recipes that highlight a root vegetable: Creamy Celeriac Soup, Creamy Parsnip Soup, and Lyne's Borscht Soup.
Click Thai Curry Root Soup for the printable version of this recipe.
4 servings
Prep time: 20 minutes
Cook time: 20 minutes
What you need:
2 tbsp coconut or avocado oil
1 large onion, finely chopped
2 cloves garlic, minced
1 tbsp grated fresh ginger root
1 tsp ground cumin
1 tsp turmeric powder
1 tsp ground coriander
1/4 tsp red pepper flakes
4 cups root vegetables*
2 cups bone broth
1 can coconut milk
2 tbsp lime juice
salt and freshly ground pepper
Garnishes (optional):
Roasted cashews or peanuts
Finely grated lime rind
Fresh cilantro or parsley
*In this version we used a combo of sweet potatoes and rutabaga.
What you do:
Eat the oil in a large saucepan. Add the onion and garlic. Cook on medium heat until onions are soft. Add the ginger root and spices. Continue cooking for a  few minutes.
Add the root vegetables. Mix and cook for a few minutes to let all the vegetables absorb the fragrance of the spices. Pour in broth and coconut milk. Stir and bring to a boil. Then lower to a simmer. Continue cooking on low heat for another 15 minutes or until all your root vegetables are soft.
Let cool. Using an immersion blender or regular blender, purée the soup to the desired consistency. Stir in lime juice and season with salt and pepper to taste. Serve with garnishes if using.
Nutrient Information Per Serving:
Fat 30g     Carbs 23g     Fibre 5g     Sugar 9g     Protein 6g
Culinary Tips:
More protein: Add 1/2 cup lentils or quinoa.
Broth: You can use bone broth, vegetable broth, or chicken broth in this recipe.
No Coconut Milk: Just increase the broth to 4 cups.
Root Vegetables for Soups: Some of our favourites are sweet potatoes (yams), carrots, parsnips, potatoes (any kind), rutabaga, celeriac.
Peanut Allergy: Replace with  pumpkin seeds.
More Spice: Double the amount of all the spices in the recipe.
Bon appétit!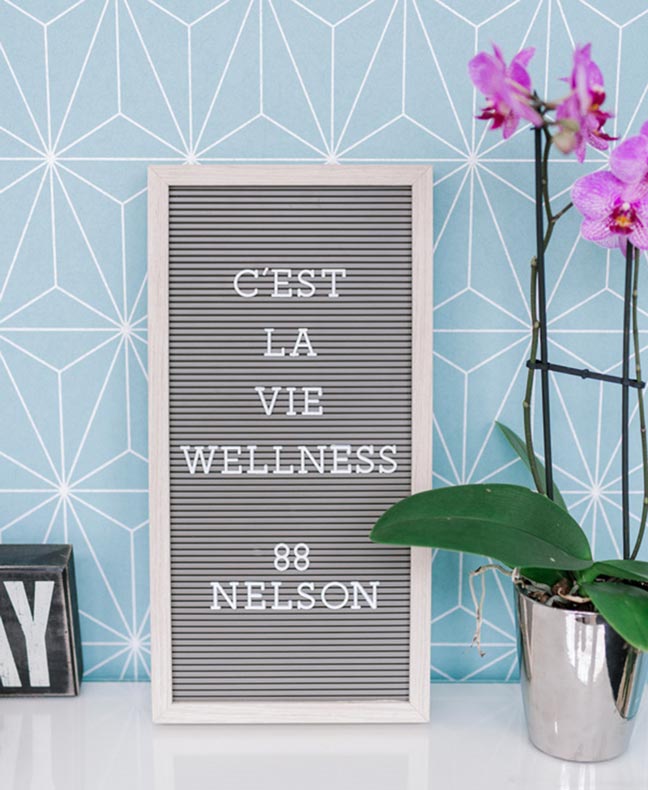 When it comes to food, the whole C'est La Vie Wellness team is on board. Some of us love to create while others enjoy testing some of our latest creations. Enjoy trying these recipes and please share pictures on your social media…and make sure to tag us! Bon appétit!