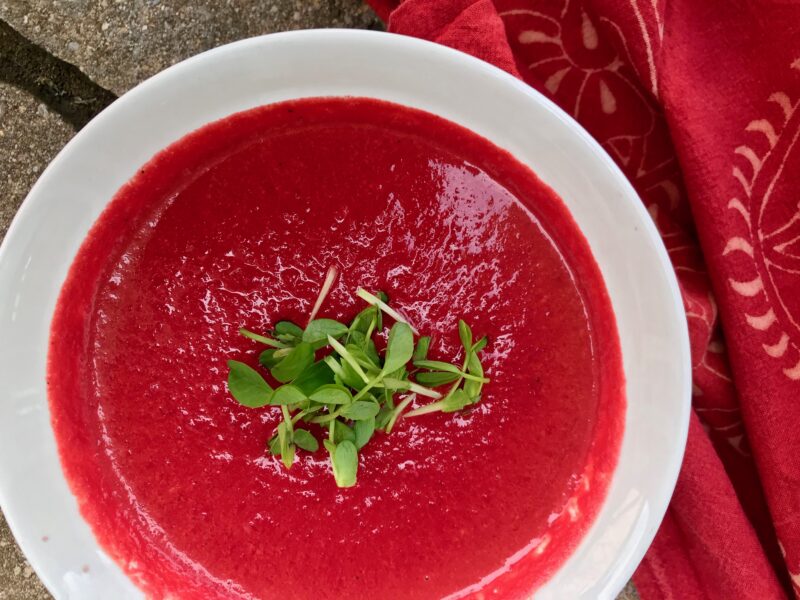 This gorgeous looking soup is packed with flavour and nutrition. Beets are great to support the liver, bone broth is healing and nourishing for the gut, and turmeric brings in its anti-inflammatory goodness. With all the other vegetables and spices, this soup is a full meal in itself. Add a dollop of coconut kefir and you have the benefits of fermented foods to top it all off. Enjoy!
4 servings 
Prep time: 15 minutes
Cook time: 30 minutes
What you need:
1 large onion, diced
1/4 cup coconut oil
1 tbsp turmeric
2 tsp ground cumin
1 tsp freshly ground pepper
1 tsp sea salt
3 stalks celery, sliced
3-4 medium beets, peeled and cubed
1 large apple, chopped
1 large carrot, cubed
2 cups diced cabbage
6 cups bone broth
1 bay leaf
1/2 lemon, juiced
sprouts (optional)
What you do:
In a large saucepan, melt the coconut oil. Add the onions and sauté until they have softened. Add the turmeric, cumin and black pepper. Mix and cook for another minute.
Add 1/4 cup of the broth, the apple and all the vegetables. Mix well. Cover and simmer on medium-low heat for 10 minutes. Add more broth if vegetables start to stick to the bottom.
Pour in the rest of the bone broth. Add the bay leaf, salt and lemon juice. Bring to a boil. Reduce heat and simmer for 15 minutes or until all vegetables are soft.
Remove the bay leaf and purée in small batches in your blender or use a hand-held immersion blender.
Return to saucepan and re-heat. Pour into serving bowls. Top with sprouts.
Bon appétit!
Substitution tips:
Replace the cabbage with cauliflower.
If vegetarian, replace the bone broth with vegetable broth.
The soup will keep in the fridge for a few days or in the freezer for a month.