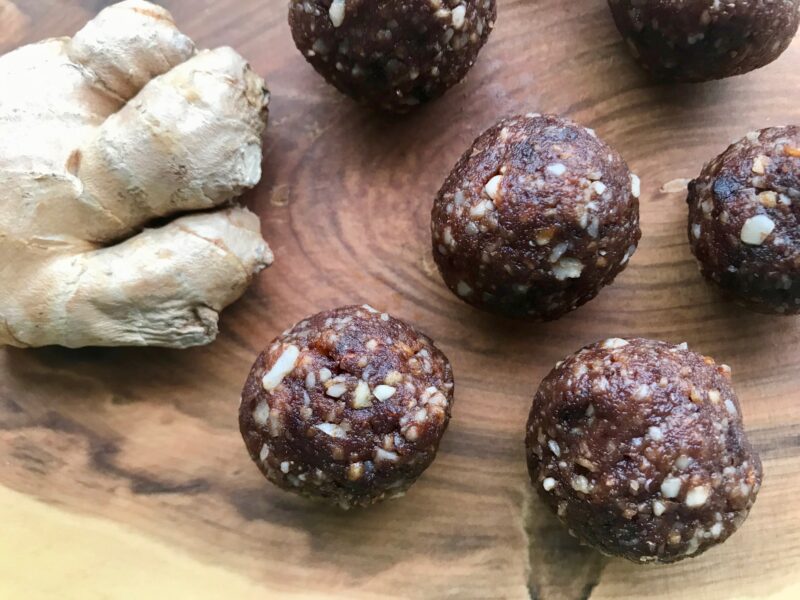 Packed with good fats from nuts and antimicrobial power from the ginger, these energy balls are more than just a snack. They will satisfy your sweet tooth without adding unwanted refined sugar to your diet. Freeze them and you have a go-to snack when the munchies hit. Enjoy!
Makes 25-30 energy balls. 
Prep time: 20 minutes
What you need:
3/4 cup pecans
3/4 cup macadamia nuts
1/2 cup Brazil nuts
3/4 cup Medjool dates
2 tbsp almond butter
1 tbsp cocoa powder
1 tbsp grated gingerroot
2 tbsp raw cacao nibs (optional)
What you do:
In a food processor, grind the pecans, macadamia nuts and Brazil nuts until you get a coarse crumbly mixture.
Add the dates, almond butter, cocoa powder and fresh ginger. Continue blending in the food processor until you get a sticky mixture. You may need to scrape the sides a few times. 
If using cacao nibs, fold them into the mixture.
Using your hands, take approximately 1 tbsp of mixture and roll into a ball. You will get between 25-30 balls depending on the size of each one.
You can store in the fridge for a week or in the freezer for a month.
Bon appétit!
Substitution tips:
Replace the fresh gingerroot with 1 tsp ginger powder.
Replace the pecans/macadamia/Brazil nuts with any combination of nuts or seeds including almonds, cashews, walnuts, pumpkin seeds.  
Replace the almond butter with any nut butter.
No Medjool dates? Use regular dates. Soak them in boiling water for 15 minutes to soften. Drain and add to the recipe.
Want sweet and salty energy balls? Use roasted salted nuts.