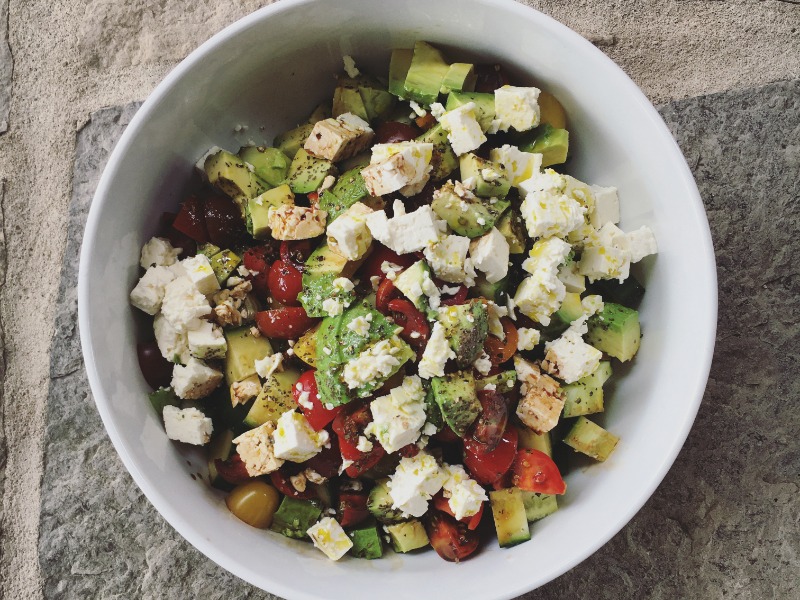 Combining the flavours and nutrients of a Greek Salad with the protein power of chickpeas and the good fats of avocados make this salad both delicious and nutritious. Enjoy it as a main meal for lunch or dinner!
2 servings as main course or 4 servings as a side salad
Prep time: 15 minutes
What you need:
1 can chickpeas, drained and rinsed
1 green pepper, chopped
1/2 English cucumber
1 cup cherry tomatoes, quartered
1 avocado, diced
1/2 cup feta, diced or crumbled
Dressing:
1/2 lemon, juiced
1 tsp dried basil
2 tbsp olive oil
1 tsp balsamic vinegar
Sea salt & freshly ground pepper to taste
What you do:
In a small bowl or Mason jar, combine the salad dressing ingredients. Set aside.
Combine all the other ingredients in a large salad bowl. Drizzle with salad dressing. Mix in and serve. 
Bon appétit!
Substitution tips:
Replace the green pepper with red, orange, or yellow pepper.
Replace the feta cheese with goat cheese or omit altogether if doing a vegan version.
Extra add ons: olives, thinly sliced red onions.