This time of year brings abundance in the garden. This means it's easier to eat locally and get the most nutrient bang for your buck. Our Spring Harvest Salad delivers just that!
Fresh peas – filling and delicious!
This salad is packed with seasonal produce that you can purchase from your farmer's market. By making a weekly trip to your local market you can ensure you are getting the most nutrient-dense ingredients. Produce at a farmer's market is typically picked the day of.  Compare this to fruits and veggies that have been picked before their prime, ripened while shipped, and left on grocery store shelves where their nutrients continue to diminish.
Not only will shopping locally bump up your nutrients, you often will save money on produce that is in season and you'll be supporting your local agriculture.
A special shoutout goes to the green peas in this salad which are undeniably more delicious when in season. Green peas contain 9 grams of protein per cup helping to keep you full.
When it's too hot to turn on the oven, here are a few delicious salads: Edamame Waldorf Salad, Greek Chickpea Salad, or Spinach Salmon and Sesame Salad.
Click clv-spring-harvest-salad for the printable version of this recipe.
4 servings
Prep time: 20 minutes
What you need:
2 cups Asparagus
4 cups Mixed Greens
2 stalks Green Onion (thinly sliced)
1 cup Strawberries (sliced)
1 cup Fresh Peas
1/2 cup Goat Cheese (crumbled)
1/4 cup Tahini
1 tbsp Maple Syrup
1/4 cup Apple Cider Vinegar
1 tbsp Tamari
2 tbsps Water (warm)
What you do:
Trim the woody ends from the asparagus and cut the spears in 1-inch pieces.
Fill the bottom of a salad bowl with leafy greens. Top with green onions, strawberries, green peas, asparagus, and goat cheese.
In a small jar, combine the tahini, maple syrup, apple cider vinegar, tamari, and
water. Shake well. Add more water to thin if necessary.
Drizzle desired amount of dressing over top of the salad and serve.
Nutrient Information Per Serving:
Fat 10g     Carbs 19g     Fibre 6g     Sugar 9g     Protein 8g
Culinary Tips:
No asparagus: Use green beans instead.
Leftovers: Store in the fridge for up to 2 days with the dressing on the side.
Make it vegan: Omit the goat cheese.
Extra toppings: Sprinkle roasted sliced almonds or walnut pieces on top.
Bon appétit!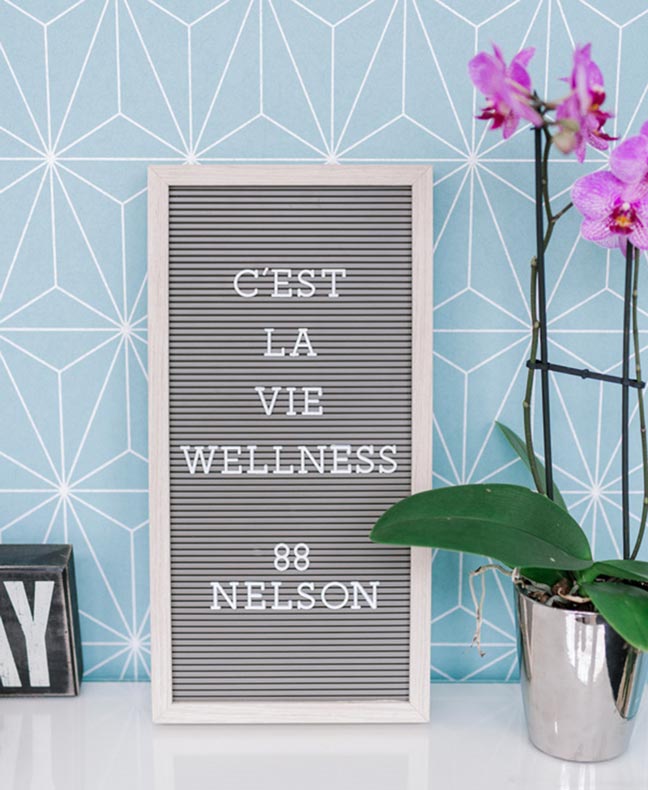 When it comes to food, the whole C'est La Vie Wellness team is on board. Some of us love to create while others enjoy testing some of our latest creations. Enjoy trying these recipes and please share pictures on your social media…and make sure to tag us! Bon appétit!