No need to cook your asparagus. Use them fresh in this easy Asparagus Salad and get a well-balanced plant-based meal that is a good source fibre and protein.
Spring is Here…It's Asparagus Time!
The fresher the better. According to Jo Robinson from her book Eating on the Wild Side, asparagus is best when freshly picked. If stored for more than three days, asparagus becomes twice as acidic. If it is store even longer, it can get a little tougher and can even grow an extra inch! So opt for farmers' market where you have a better chance of getting as fresh as possible. And then eat it that day.
To maintain as much flavour and phytonutrients, eat it as close to the day as you bought it. Store in a perforated bag in your crisper drawer if not eating the same day.
Asparagus are high in antioxidants and boiling them will increase that value by about 30%.
Click fresh-asparagus-salad for the printable version of this recipe.
2 servings
Prep time: 15 minutes
What you need:
1 cup cooked quinoa
4 raw asparagus, chopped into thin pieces
1/2 cup finely chopped fresh herbs
1 cup finely chopped fresh lettuce greens
3/4 cup cooked chickpeas
1/4 cup feta (omit for a dairy-free version)
1/4 cup pickled onions*
For the vinaigrette:
2 tbsp lemon zest
2 tbsp lemon juice
1/4 cup olive oil
1 tbsp honey
1 tsp kosher salt (or sea salt)
*To make pickled onions, follow this easy recipe. Make at least 30 minutes ahead or the day before.
What you do:
Combine the quinoa, asparagus, mixed fresh herbs, mixed lettuce, chickpeas and mix well. Top with pickled onions and feta.
In a Mason jar, mix together the lemon zest, lemon juice, olive oil, honey and salt. Shake until all ingredients are well blended. Drizzle over salad. Mix well and enjoy!
Nutrient Information Per Serving:
Fat 36g     Carbs 49g     Fibre 9g     Sugar 15g     Protein 14g
Culinary Tips:
If you can't find fresh asparagus, use pickled one instead or replace with blanched green beans.
For your mixed greens, you can use a mix of spinach, leaf lettuce, arugula or whatever you have on hand.
For your mixed fresh herbs, you can use dill, basil, mint, parsley, thyme, or whatever you have on hand.
Bon appétit!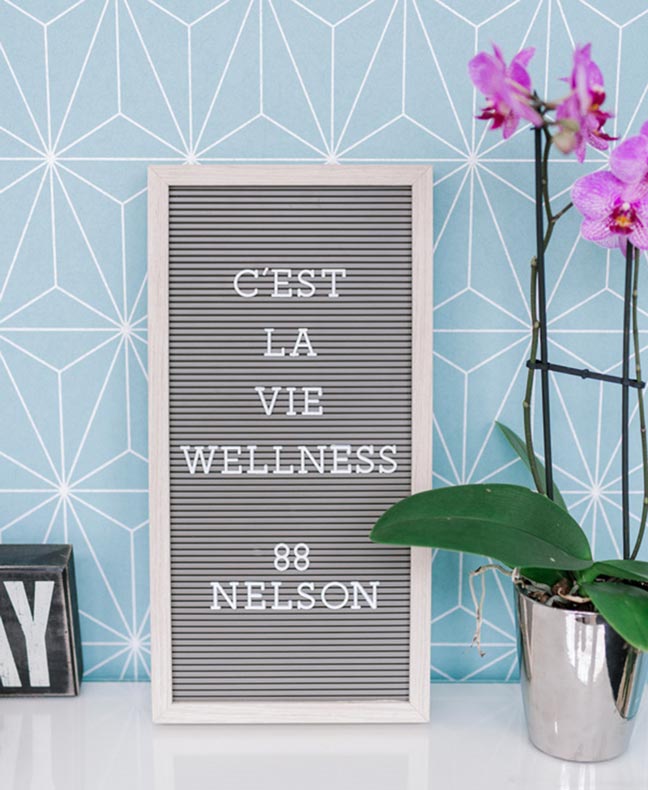 When it comes to food, the whole C'est La Vie Wellness team is on board. Some of us love to create while others enjoy testing some of our latest creations. Enjoy trying these recipes and please share pictures on your social media…and make sure to tag us! Bon appétit!