Bring this salad to your next summer bbq and soak up the final days of sunshine.
Watermelon – the hydration fruit!
Crafted to delight your taste buds and nourish your body, this salad is a celebration of hydration and vitality. Savor the juiciness of ripe watermelon, paired perfectly with tangy feta, mint leaves, and a zesty lime dressing.
In this salad, you will find the wonderful late summer abundance of watermelon and tomatoes. Did you know watermelon is comprised of 92% water? This makes it a great option to help hit your daily hydration goal and help your body function properly.
On top of helping you stay hydrated, consuming watermelon may help to improve exercise performance and reduce muscle soreness. Citrulline is an amino acid found in watermelon, this compound is known to expand blood vessels which reduces the work for your heart to pump blood through your body. Pretty great perks of a delicious, summer fruit!
Click clv-fresh-watermelon-salad for the printable version of this recipe.
8 servings
Prep time: 20 minutes
What you need:
1 small watermelon

2 cups of cherry tomatoes

1 red onion

1/2 cup apple cider vinegar

1/2 cup feta cheese

1 jalapeño

1/4 cup mint, chopped

Juice & zest of 2 small limes

1 tsp chili flakes

1/2 cup olive oil

1/2 tsp dry mustard

3 tbsp maple syrup

1 tsp + 1 tbsp kosher salt
What you do:
Pickled red onion:

Cut onion into thin slices. Add apple cider vinegar, 1/2 cup water, and 1 tbsp of kosher salt to a pot and bring to a low boil. Add in sliced onion and let simmer for 5 mins. Turn off the heat and let cool.

Chop watermelon and tomatoes into bite-sized pieces. Remove jalapeño seeds and chop finely.

Add lime zest + juice, chili flakes, olive oil, dry mustard, maple syrup, and 1 tsp of kosher salt into a bowl. Whisk together.

Add watermelon, tomatoes, jalapeño, mint, and feta to a bowl. Mix well and top with dressing. Serve and enjoy.
Nutrient Information Per Serving:
Fat 16g     Carbs 31g     Fibre 2g     Sugar 24g     Protein 4g
Culinary Tips:
Leftovers: Store in the fridge for up to 2 days with the dressing on the side.
Make it vegan: Omit the feta cheese.
Extra toppings: Sprinkle roasted sliced almonds or walnut pieces on top.
Bon appétit!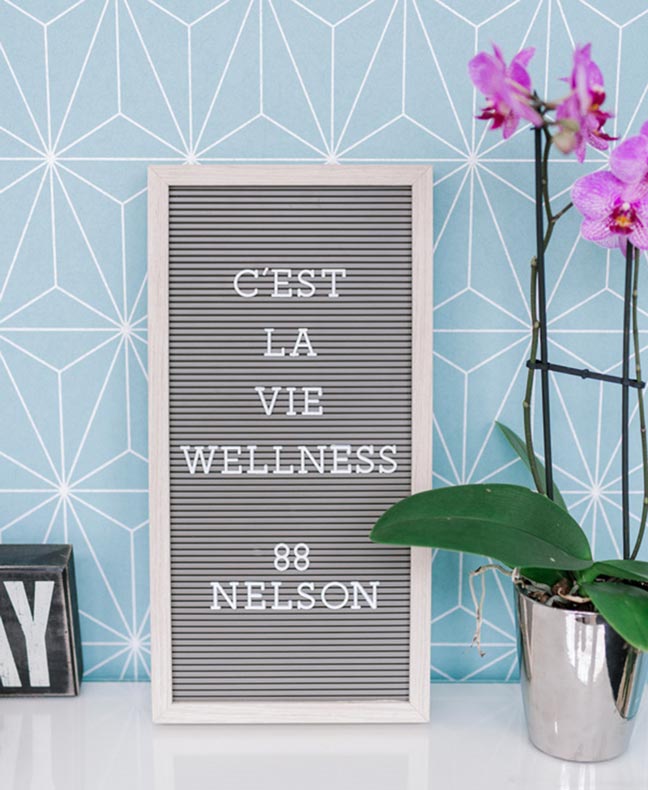 When it comes to food, the whole C'est La Vie Wellness team is on board. Some of us love to create while others enjoy testing some of our latest creations. Enjoy trying these recipes and please share pictures on your social media…and make sure to tag us! Bon appétit!