Balancing the Fat, Fibre & Protein
Salads are a wonderful way to bring in lots of greens and fresh fruits and vegetables. However, if eaten as a main meal, it is important to ensure there is enough protein to keep you satiated until you next meal. Adding beans such as edamame, will help boost the protein and fibre content of the popular Waldorf Salad. Walnuts will provide a good source of Omega-3 fats as well as more protein and fibre.
Health Benefits of  Walnuts
Walnuts contain a powerhouse of nutrients. It is a rich source of vitamin E, the gamma-tocopherol kind, which is highly beneficial for cardiovascular health. Walnuts are packed with phytonutrients that are anti-inflammatory and anti-oxidative. Their consumption has been associated with a decreased rate of cancer.
Because of its high content of good fats, studies suggest that daily consumption of walnuts (1–2 oz per day) can improve cognitive function and overall brain health. It also means a reduction in the risk of other diseases, such as cardiovascular disease, depression, and type 2 diabetes, which are risk factors for the development of dementia.
Click edamame-waldorf-salad for the printable version of this recipe.
Makes 3 servings 
Prep time: 15 minutes
What you need:
1 stalk celery, sliced (about 1 cup)
1 cup red grapes, halved
1 apple, with peel, chopped
1 stalk green onion, thinly sliced (about 1/4 cup)
1 1/2 cups edamame beans*
1/4 cup mayonnaise
1 tbsp Dijon mustard
2 tbsps lemon juice (or juice from 1/2 lemon)
1/2 tsp sea salt
1 1/2 cups mixed greens, coarsely chopped
1 cup walnuts, toasted & coarsely chopped
What you do:
Combine the celery, grapes, apple, green onion and edamame beans in a large salad bowl.
In a small bowl, whisk together the salad dressing ingredients: mayonnaise, mustard, lemon juice & salt. If too thick, add 1-2 tbsp olive oil.
Add the dressing to the salad bowl and mix well. Add the leafy greens and mix again.
Top with the toasted walnuts. Enjoy as a main meal or a side dish with a main protein.
Nutrient Information per serving (2 muffins):
Fat 44g     Carbs 28g     Fibre 9g     Sugar 15g     Protein 16g
*Culinary Tips:
You can use frozen edamame for this recipe. Just thaw them and then mix in. Make sure to buy organic, non-GMO beans.
For the mixed greens, you can use of combo of various lettuces, kale, spinach, etc.
Make it vegan by using vegan mayonnaise.
Bon appétit!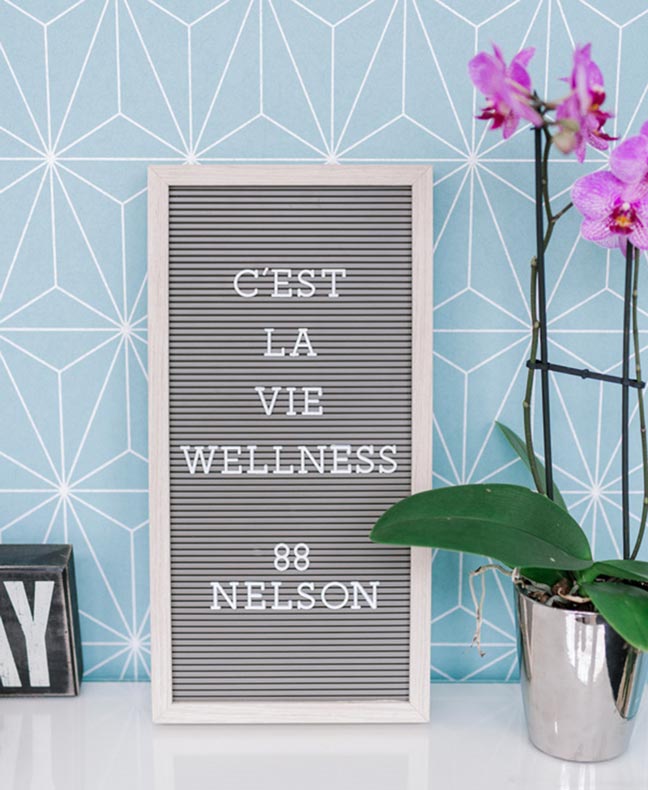 When it comes to food, the whole C'est La Vie Wellness team is on board. Some of us love to create while others enjoy testing some of our latest creations. Enjoy trying these recipes and please share pictures on your social media…and make sure to tag us! Bon appétit!