A Twist on a Mediterranean Classic
Tabbouleh is a classic salad found in the Mediterranean region of the world. It is a fresh dish that can be eaten as a snack, used as a side with a main protein, or eaten on its own for a light lunch. Using fresh herbs like parsley and mint gives this salad its unique taste. By adding some quinoa instead of bulgur, we have made this a gluten-free option and have added a great plant-based protein. We hope you enjoy our Quinoa Tabbouleh, a twist on a Mediterranean Classic.
Quinoa – An Excellent Source of Plant-Based Protein
We often think of quinoa as a whole grain but in fact, it is actually a seed. It originated from the Andean region of South America. It is an excellent source of plant-based protein as it provides all nine essential amino acids. One cup of cooked quinoa will give you 8g of protein. Since it is a whole seed, it is also a great source of fibre, providing 5g per cooked cup. Quinoa is gluten-free and versatile. Use it in place of rice or any other grains.
Click  here for the printable version of this recipe.
Makes 4 servings 
Prep time: 20 minutes
What you need:
1/2 cup quinoa, uncooked
2 cups fresh parsley, de-stemmed & finely chopped
1/4 cup fresh mint, de-stemmed & finely chopped
2 stalks green onions, finely sliced
2 medium tomatoes, diced
1-2 tbsp extra virgin olive oil
1/4 cup lime juice
Sea salt & freshly ground pepper, to taste
What you do:
Soak quinoa for 15 minutes or overnight. Rinse well. Cook the quinoa according to the directions on the package. Fluff with a fork to separate the grains. Let cool.
In a large bowl, combine all the other ingredients. Add the cooled quinoa. Mix well. Taste and adjust seasoning as needed. Serve immediately or refrigerate until ready to eat.
Nutrient Information per serving (2 cups):
Fat 5g     Carbs 19g     Fibre 3g     Sugar 1g     Protein 5g
Culinary Tips:
If you don't like tomatoes, you can substitute with finely diced cucumbers or bell peppers (or both).
This salad will keep very well in the fridge for up to 4 days.
Make it a complete meal by adding more protein: cooked chicken, cooked fish, cooked lentils, etc.
For more flavour, feel free to add crushed garlic, or various spices.
You can replace the quinoa with cauliflower rice, raw hemp seeds, or cooked lentils.
Bon appétit!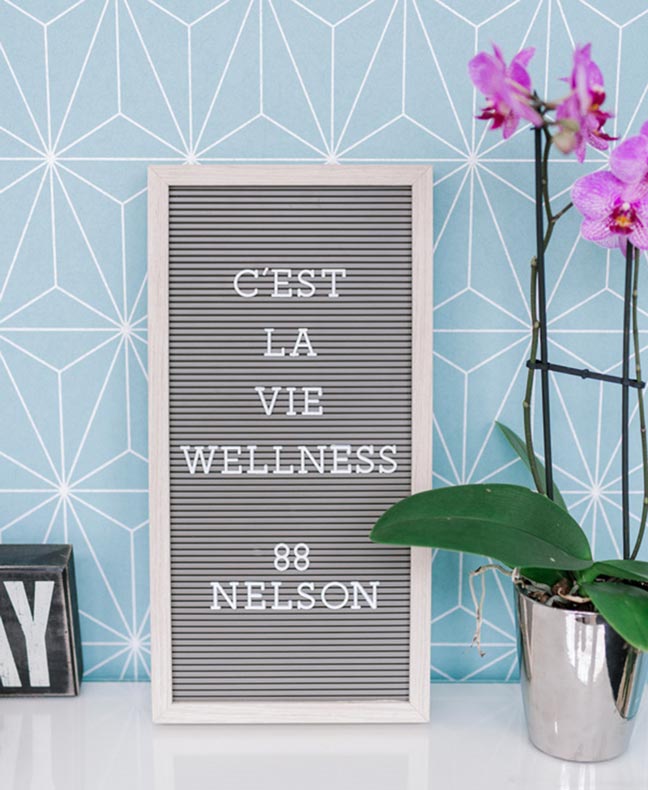 When it comes to food, the whole C'est La Vie Wellness team is on board. Some of us love to create while others enjoy testing some of our latest creations. Enjoy trying these recipes and please share pictures on your social media…and make sure to tag us! Bon appétit!