The Perfect Sweet & Sour Combo
Mashed bananas are the perfect natural sweetener to any baking dish, enabling you to reduce the amount of added sugar used. By adding in the sour tangy taste of rhubarb, our Banana, Chia & Rhubarb Muffins provide a sweet & sour explosion in your mouth.
Health Benefits of  Rhubarb
This hardy plant grows wild in many areas of Canada and the Northern U.S.. The stems are the edible part of the plant and the redder the stem, the less sour it will be. Rhubarb provides lots of fibre if eaten raw. It is a great source of calcium and vitamin K, as well as a good source of vitamin A & C, potassium, manganese and magnesium. Because of its sour taste, it is often combined with other fruits in recipes, as we did in our Banana, Chia & Rhubarb Muffins.
This recipe is gluten-free and dairy-free and will be enjoyed by everyone in the family as a nourishing breakfast or a go-to snack.
Click banana-chia-rhubarb-muffins for the printable version of this recipe.
Makes 6 servings 
Prep time: 15 minutes
Cook time: 20-25 minutes
What you need:
1 cup almond flour
3/4 cup brown rice flour
1/4 cup chia seeds
1 tsp baking powder
1/2 tsp baking soda
1/4 tsp salt
2 eggs
1/4 cup avocado oil (or melted coconut oil)
3 bananas, peeled and mashed (about 1 cup of purée)
2 tbsp maple syrup
1 tsp vanilla extract
1 cup chopped rhubarb
What you do:
Preheat oven to 350C. Line muffin tins with paper cups or silicone cups
Mix together the flours, chia seeds, baking powder, baking soda and salt in a large bowl. Set aside.
In a medium bowl, whisk the rest of the ingredients, except the rhubarb.
Pour the wet ingredients into the dry mixture and blend well. Fold in the rhubarb and spoon the mixture into muffin cups. Bake for 20-25 minutes or until the top is firm. Remove from the oven and let cool.
Nutrient Information per serving (2 muffins):
Fat 23g     Carbs 42g     Fibre 7g     Sugar 12g     Protein 10g
*Culinary Tips:
If you cannot find rhubarb, use fresh or frozen cranberries instead.
One serving is two muffins.
Bon appétit!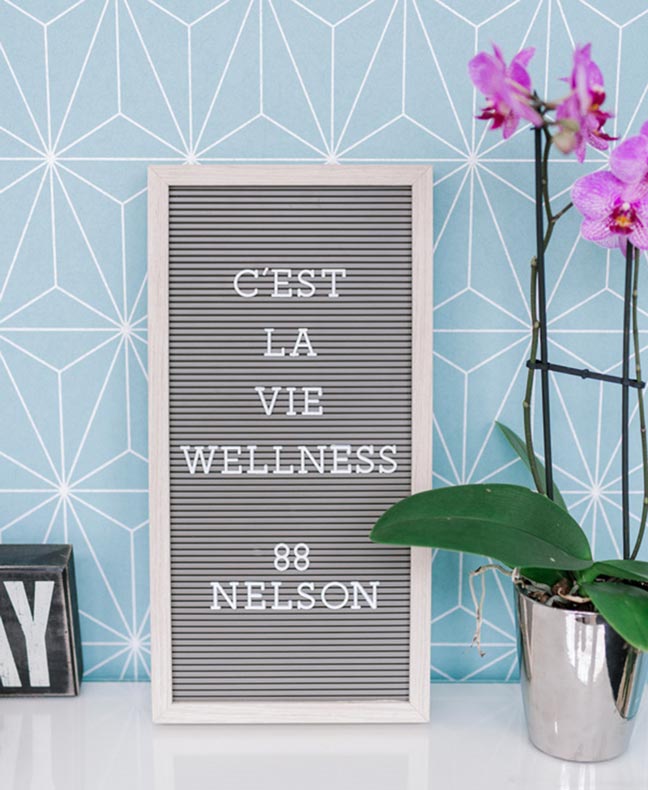 When it comes to food, the whole C'est La Vie Wellness team is on board. Some of us love to create while others enjoy testing some of our latest creations. Enjoy trying these recipes and please share pictures on your social media…and make sure to tag us! Bon appétit!