Buckwheat: the Perfect Alternative to Wheat or Oats
Even though the word buckwheat contains the word "wheat", this grain is totally wheat-free and gluten-free. It is a great alternative to wheat and other gluten-containing cereals & grains. We love it as a substitute for oats and oatmeal porridge. If you are intolerant to oats but love your morning oatmeal, then this our Creamy Buckwheat Porridge is the perfect alternative.
Buckwheat is versatile and you can either buy the groats (whole grain), the creamy buckwheat (crushed grains), or the flour (milled grains). Whatever way you eat it, it is a great whole grain addition to your diet.
Health Benefits of  Buckwheat
Buckwheat is a great source of fibre, even better than oats. Because of this, it helps to stabilize blood sugar levels, and it will keep you satiated until your next meal. It is low on the glycemic index. Early studies show that it may also be a great source of prebiotics, which can help support a healthy gut.
 Other health benefits attributed to buckwheat include lowering cholesterol levels, protecting against cancer, reducing inflammation, and improving blood pressure. It is a great source of antioxidants which can benefit cardiovascular health.
Click Creamy Buckwheat  for the printable version of this recipe.
Makes 2 servings 
Prep time: 15 minutes
What you need:
1/2 cup creamy buckwheat*
2 cup water
1/8 tsp salt
1/2 cup coconut milk (full-fat)
2 tbsp cacao nibs (optional)
1 tsp cinnamon powder (more or less to taste)
1 banana, sliced
1 cup halved strawberries
1/2 cup chopped pecans
What you do:
Bring water and salt to a boil. Add the creamy buckwheat, reduce heat, and simmer for about 10 minutes. Check regularly and add more liquid if needed to prevent it from sticking to the bottom of the pan.
Remove from heat and add the coconut milk and cinnamon. Mix well.
Top with cocoa nibs, fruits and pecans. Enjoy warm or cold.
Nutrient Information per serving (using banana and strawberries):
Fat 32g     Carbs 63g     Fibre 10g     Sugar 13g     Protein 8g
*Culinary Tips:
Make your own creamy buckwheat by grinding buckwheat groats in a food processor or high-speed blender until you get a coarse grainy mix. Do not overblend as you will end up with flour!
For extra creaminess, use almond milk instead of water when cooking.
You can replace the coconut milk with any non-dairy milk.
Feel free to use any fruits and nuts combo in this recipe, according to what is in season.
Bon appétit!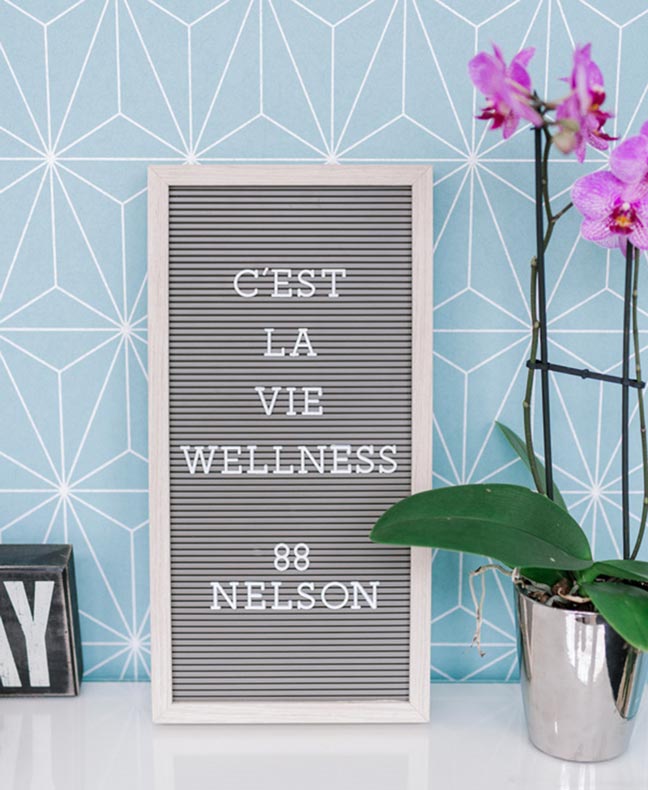 When it comes to food, the whole C'est La Vie Wellness team is on board. Some of us love to create while others enjoy testing some of our latest creations. Enjoy trying these recipes and please share pictures on your social media…and make sure to tag us! Bon appétit!