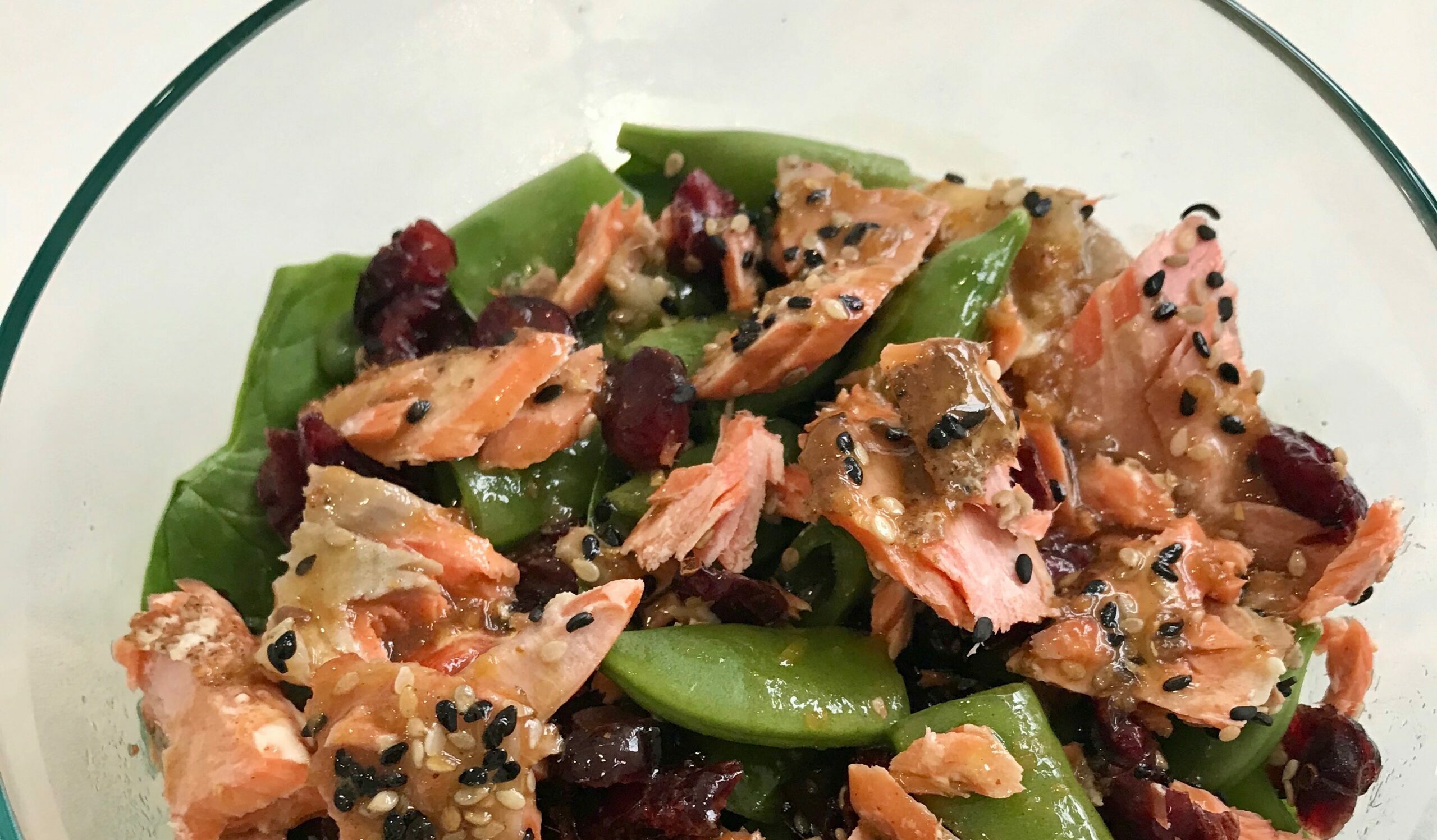 The sesame-ginger dressing on this salad is what makes it so delicious. Make sure to use toasted sesame oil for more flavour depth. I love adding some pomegranates to this salad for extra colour and freshness. However, they may be hard to find so using some dried cranberries is a good substitute. Enjoy this salad at any time of the year! 
Makes 1 serving (+ extra servings of salad dressing)
Prep time: 10 minutes
What you need:
1 cup baby spinach (a good handful)
1/2 cup chopped snap peas
1 tbsp pomegranate seeds 
1/2 cup cooked salmon
1 tsp sesame seeds
For the dressing
1/4 cup avocado oil
3 tbsp raw apple cider vinegar
2 tbsp toasted sesame oil
1 tbsp raw liquid honey
1 tbsp tamari sauce
2 tsp grated gingerroot
1 garlic clove, crushed
1/4 tsp sea salt
pinch cayenne pepper (optional)
What you do:
In a small bowl, whisk together the salad dressing ingredients until well blended. Set aside.
In a salad bowl, layer the bottom with the spinach. Top with the snap peas, pomegranate seeds, cooked salmon and sesame seeds.
Drizzle with the salad dressing and mix. 
Bon appétit!
Substitution tips:
Replace the pomegranate seeds with dried fruit such as cranberries.
Use canned salmon if you do not have any fresh cooked salmon.
Use snow peas instead of snap peas.
This salad dressing can be used as a marinade as well.