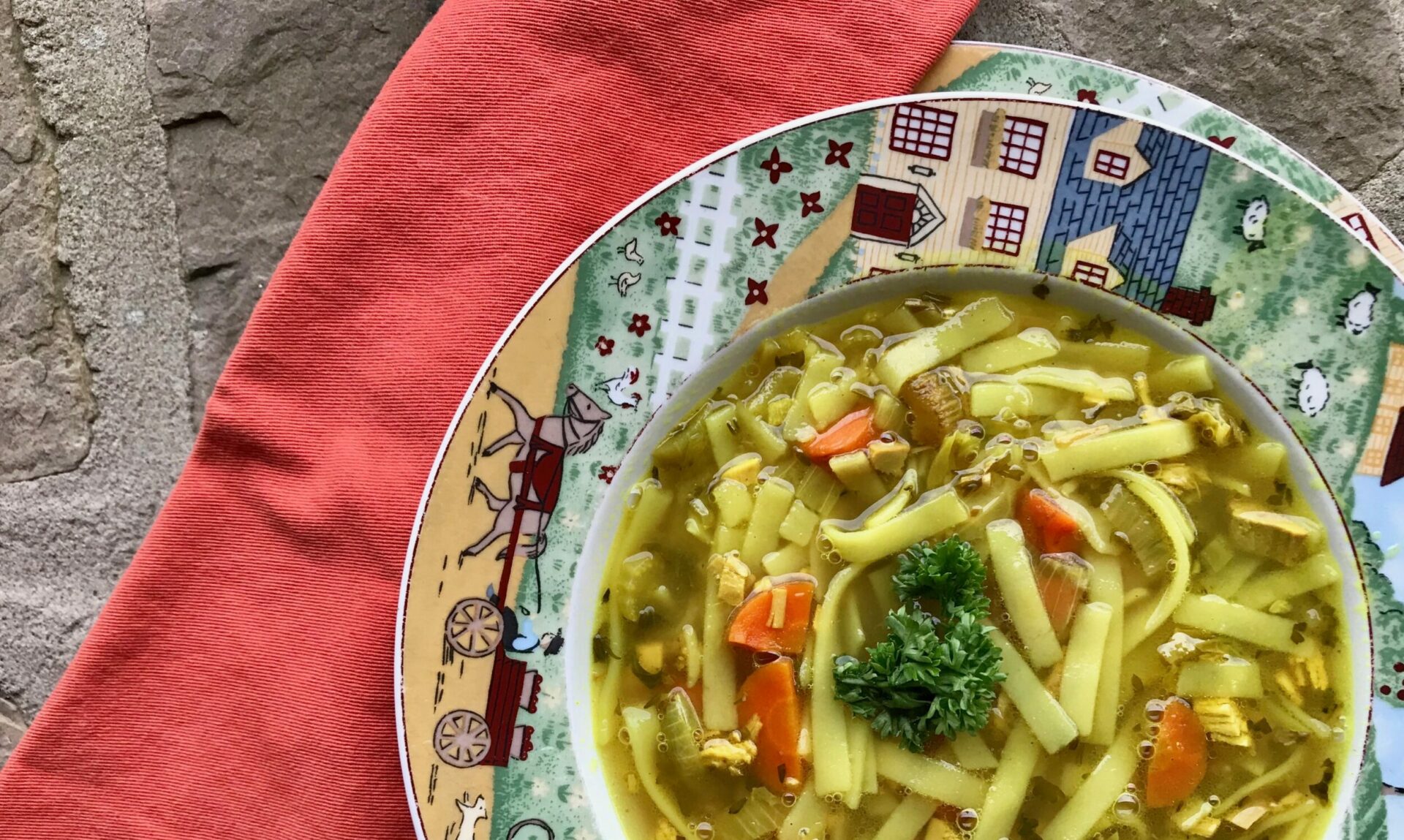 Another great way to use up turkey leftovers is into a nourishing wholesome soup. Adding homemade bone broth, turmeric, and fresh herbs, makes this soup gut-healing and anti-inflammatory. Enjoy it on a cool winter night, after a day of skiing, snowshoeing, skating or hiking. 
Makes 6 servings
Prep time: 20 minutes
Cook time: 30 minutes
What you need:
2 tbsp coconut oil
1 large onion, diced
3 garlic cloves, minced
1 tbsp turmeric powder
2 celery stalks, sliced (approx. 1 cup)
2 cups chopped cabbage
3 large carrots, diced
4 cups bone broth
1 tbsp fresh thyme, chopped
1/4 cup fresh parsley, chopped
1 tbsp sea salt
1/2 lb cooked turkey leftovers, cubed
2 cups rice vermicelli, broken into small pieces
2 cups water (more or less)
What you do:
Melt coconut oil in large saucepan, over medium-high heat. Add onions and garlic. Sauté until onions have softened. Add turmeric and mix. Continue cooking for 1 minute or until fragrant.
Add the celery, carrots and cabbage and stir. Continue to sauté for another minute.
Add the bone broth, fresh thyme, fresh parsley, and sea salt. Bring to a boil, then simmer for 20 minutes or until the vegetables are soft.
Add the cooked turkey, rice noodles and extra water (as needed). Cook another 5 minutes until noodles are cooked. Taste and adjust seasoning. Ladle into soup bowls and enjoy!
Bon appétit!
Substitution tips:
Replace the fresh thyme and parsley with any other fresh herbs, or 1 tsp dried thyme and 1 tbsp dried parsley.
Replace the cooked turkey with cooked chicken.
Replace the vermicelli with rice.
Store in an airtight container in the fridge for 3-4 days. 
Will freeze very well for up to three months.