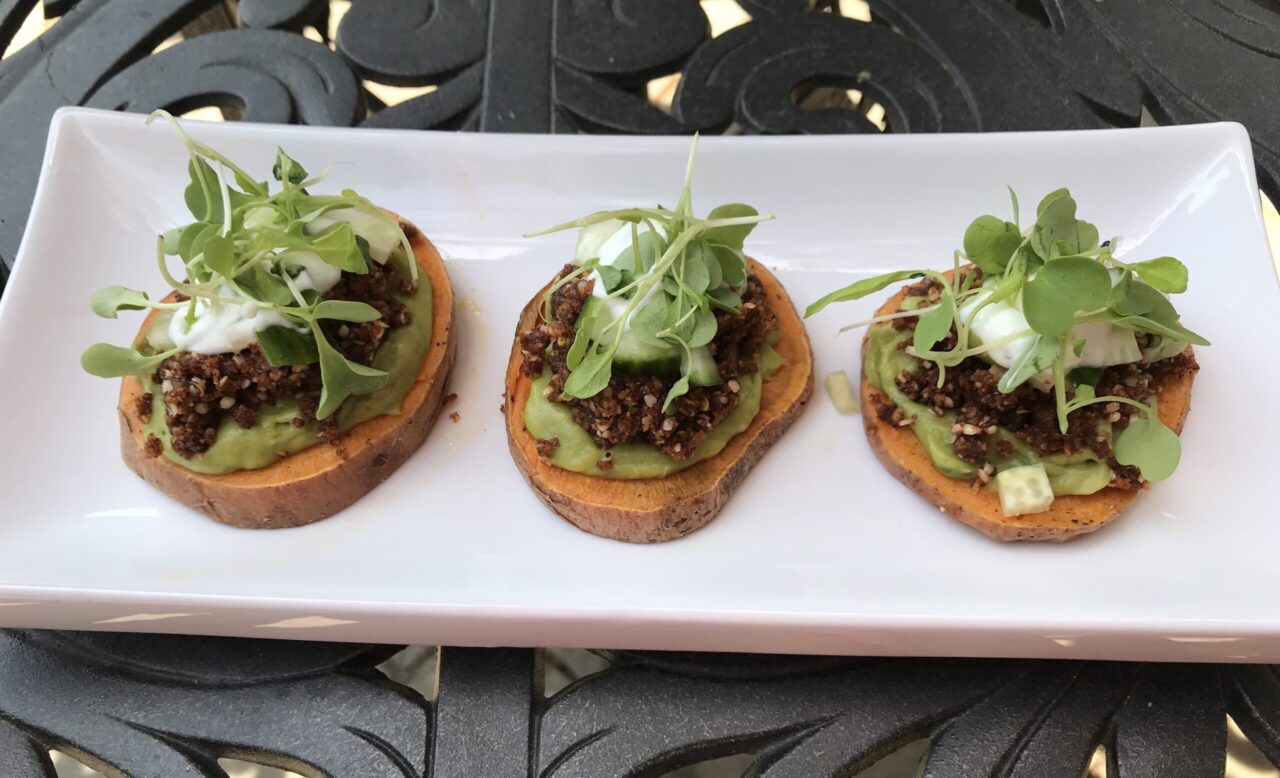 Getting ready to watch the game? Add these healthy vegan/vegetarian nachos to your snack list. Your taste buds will love the spices and your palate will appreciate the various textures. By omitting corn chips and dairy cheese, we have reduced the inflammatory component. Using some good fats like walnuts and avocados means we are nourishing the brain, the nervous system and every cell membrane in your body. So have one as a snack or eat 3 or 4 as a meal. You will be surprised how filling they can be. Enjoy!
Makes 4 servings as a meal or 8 servings as a snack
Prep time: 20 minutes
Cook time: 15-20 minutes
What you need:
1 large sweet potato, cut into thick slices
1-2 tbsp olive oil
1/4-1/2 cup guacamole (or mashed avocado)
1/2 cup Chili Walnut Meat
1/4 cup finely diced cucumber
unsweetened coconut yogurt
sprouts
*To make the Chili Walnut Meat
1 cup toasted walnuts
1 tbsp olive oil
1 tbsp chili powder (more or less to taste)
1/2 tsp ground cumin
1 tbsp tomato paste
1 tbsp hemp seeds
1/4 tsp sea salt
pinch cayenne pepper (optional)
What you do:
Preheat oven to 400F. In a medium bowl, toss the slices of sweet potatoes with the olive oil and some salt and pepper. Spread the potato slices on a baking sheet and cook for 10 minutes. Flip them over and cook an additional 5-10 minutes until cooked (depending on the thickness). Set aside.
While potatoes are cooking, make the Chili Walnut Meat. Combine all the ingredients in a food processor and pulse until you get an even crumbly texture. Set aside.
To assemble, "butter" each potato slice with some guacamole. Top with the Chili Walnut Meat. Sprinkle with cucumber pieces. Top with yogurt and sprouts.
Bon appétit!
Substitution tips:
Replace the guacamole with some mashed avocado or some salsa.
Use finely diced tomatoes or zucchinis instead of cucumbers.
You can make the Chili Walnut Meat in advance and refrigerate until ready to use.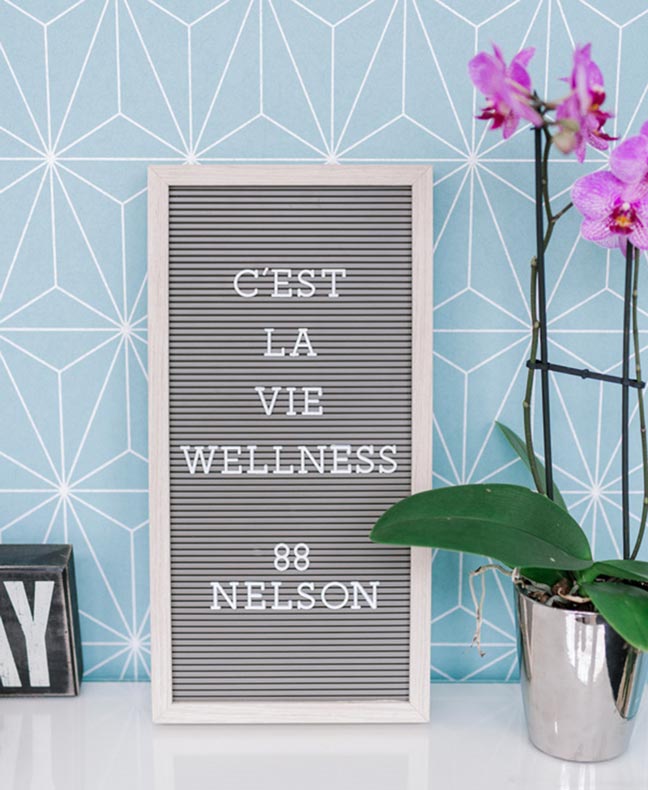 When it comes to food, the whole C'est La Vie Wellness team is on board. Some of us love to create while others enjoy testing some of our latest creations. Enjoy trying these recipes and please share pictures on your social media…and make sure to tag us! Bon appétit!