Parsnips, A Nice Alternative to Carrots
Parsnips may look like carrots but their flavour is quite different as are the health benefits. This root vegetable is usually larger than carrots and a lighter white or pale yellow colour. It has a taste that is both nutty and sweet that is closer to turnips. When roasted, it brings out its natural sweetness even more. Parsnip can be baked, boiled, pureed, oven-roasted, fried, grilled, or steamed. We love parsnips in soups for their creaminess and natural sweetness.
The Benefits of Parsnips
Parsnips provide many nutrients as well as a good amount of fibre, vitamins and minerals. A serving of 1/2 cup of sliced parsnips will give you 3g of fibre and only 55 calories. It makes it a popular vegetable to use in lieu of potatoes or carrots.
Parsnips gives you 11% of your daily recommended intake for vitamin C, folate, and manganese. It is also a good source of potassium, providing 8% of your daily recommended intake. This means that parsnips can help improve heart health, boost the immune system, support digestion and aid in weight loss.
Click creamy-parsnip-soup for the printable version of this recipe.
Makes 6 servings 
Prep time:  15 minutes
Cook time: 30 minutes
What you need:
2 tbsp ghee or coconut oil
1 large leek, chopped, white & light green parts only
3 cloves garlic, minced
2 tbsp grated ginger
1 tbsp grated fresh turmeric (or 1 tsp turmeric powder)
3 large parsnips, cubed
1 large carrot, cubed
1 large Yukon gold potato, peeled & cubed
1/4 cup fresh parsley, finely chopped
4-6 cups bone broth (or vegetable broth)
1/2 cup goat cheese (optional)
1 tsp salt
freshly ground pepper (to taste)
1 lime, juiced
toasted pumkin seeds (to serve)
What you do:
In a large saucepan over medium heat, melt the ghee or coconut oil. Add the leek and garlic cloves and cook for a few minutes until softened. Add the fresh ginger and turmeric. Keep cooking for 1 minute or until fragrant.
Add the vegetables, parsley and broth to the saucepan. Season with salt and pepper. Bring to a boil, then let simmer for 20 minutes. Turn off the heat and add the feta cheese (if using).
Blend the soup in a blender and return to the saucepan. Add the lime juice and stir. Adjust seasonings to taste.
Serve in soup bowls. Top with toasted pumpkin seeds and fresh parsley.
Nutrient Information per muffin:
Fat 41g     Carbs 89g     Fibre 18g     Sugar 19g     Protein 34g
*Culinary Tips:
Turmeric root can be found in most health food store. Turmeric contains curcuma which is one of the best anti-inflammatory food.
If you can't find a leek, use an onion instead.
Make it spicy by adding 1/2 tsp chili sauce or more to taste.
Bon appétit!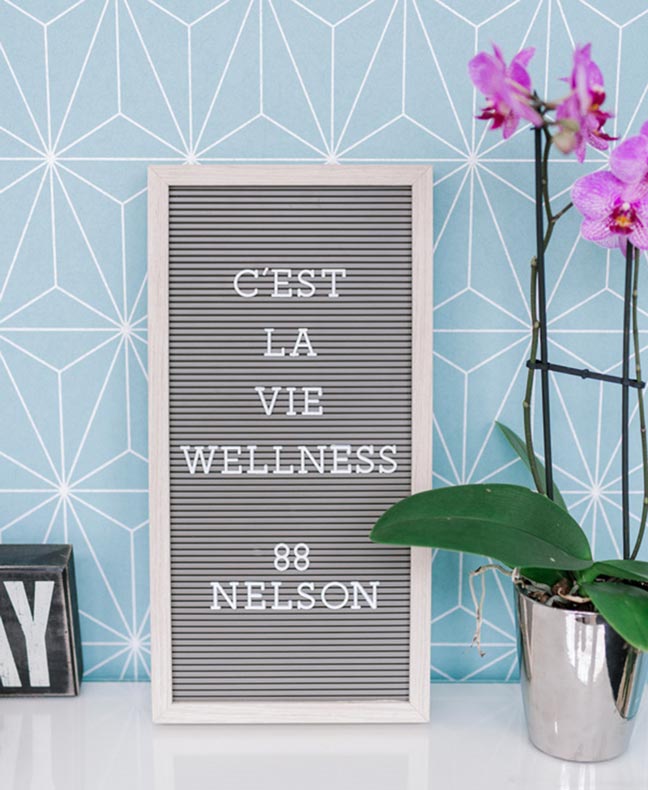 When it comes to food, the whole C'est La Vie Wellness team is on board. Some of us love to create while others enjoy testing some of our latest creations. Enjoy trying these recipes and please share pictures on your social media…and make sure to tag us! Bon appétit!