Olives, a Staple of the Mediterranean Diet
If you have been to Italy, Greece, Spain or Portugal, you know how olives (and olive oil) are an integral part of all meals. Many of these countries are also part of the blue zones of the world, areas where people live long and healthy lives. This is one of the main reasons that the Mediterranean Diet has been adopted as a heart-healthy way of eating. And olives (and olive oil) are a big part of that. Our Easy Olive Tapenade makes it easy to include more  healthy olives in your diet.
Fun Facts About Olives
Olives, like grapes, are terroir dependent. Their flavour and taste will vary according to the climate, soil, and tradition of each region. Just like making good wine from various grapes, the olive oil made from various olives will vary in taste.
There are over 2000 varieties of olives. 90% of them are grown in the Mediterranean region, especially in Spain, Italy and Greece.. A total of 24 million acres of land worldwide is covered by olive groves, each area with its own quality of terroir. Most of the olives grown today are used to make olive oil.
Olives are a good source of healthy monounsaturated fat. 74% of this fat comes from oleic acid. Studies show that oleic acid is linked to several health benefits, including decreased inflammation and a reduced risk of heart disease. It may even help fight cancer. Olives are also high in vitamin E, a powerful antioxidant.
Freshly-picked olives are inedible. Olives must be cured to take out the bitterness and to make them moare palatable. Some of the ways this is done is to use brine, dry salt, water, or lye treatments.
Our easy-to-make Olive Tapenade is the perfect way to highlights olives. Enjoy it as a mid-afternoon snack or as part of a charcuterie board.
Click clv-easy-olive-tapenade for the printable version of this recipe.
Makes 8 servings 
Prep time:  10 minutes
What you need:
1 cup black olives, pitted
2 tbsp capers
1/4 cup parsley
1 tbsp fresh lemon juice
2 tbsp extra virgin olive oil
1/8 tsp sea salt
What you do:
Combine the olives, capers, parsley, lemon juice, olive oil and sea salt in a food processor and blend until desired consistency is reached. Adjust salt and lemon juice to taste.
Add as a topping to your favourite crackers or sliced cucumbers. Enjoy!
Nutrient Information:
Fat 5g     Carbs 2g     Fibre 0g     Sugar 0g     Protein 0g
*Culinary Tips:
No olive oil? Use avocado oil instead.
You can vary the type of olives used or do a mix of green and black.
You can replace the lemon juice with apple cider vinegar.
This will keep in the refrigerator for 7 days.
Bon appétit!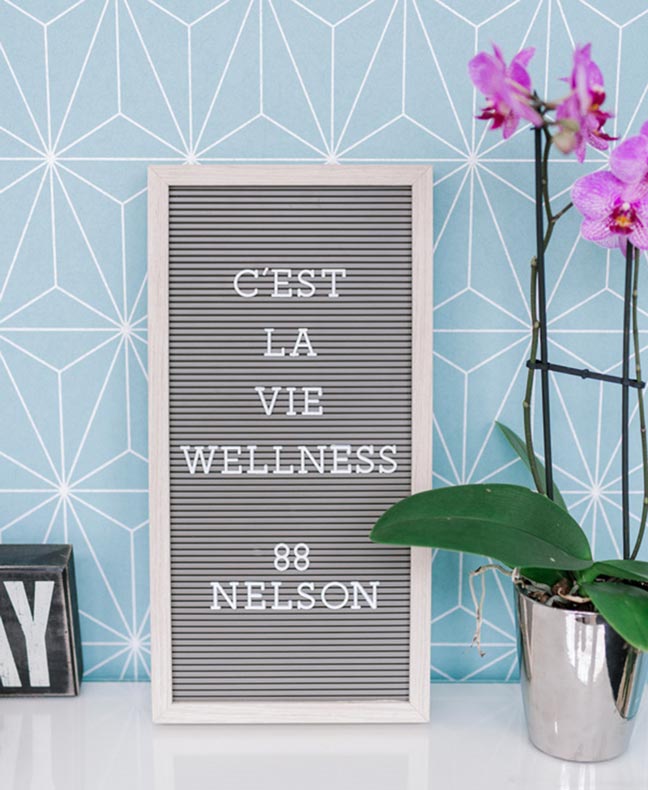 When it comes to food, the whole C'est La Vie Wellness team is on board. Some of us love to create while others enjoy testing some of our latest creations. Enjoy trying these recipes and please share pictures on your social media…and make sure to tag us! Bon appétit!