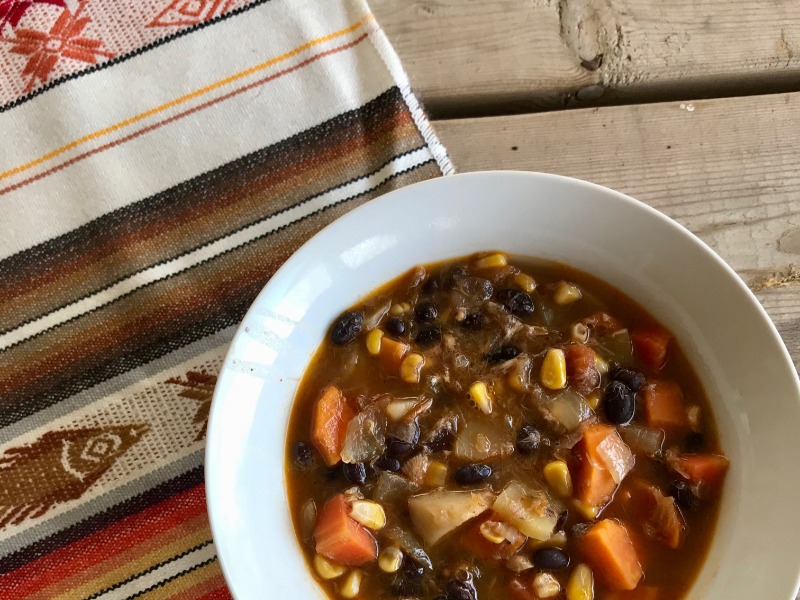 This soup is a great way to use up any leftovers in your fridge, freezer and pantry. It is a complete meal on its own providing lots of fibre and protein. Use whatever vegetables you have on hand in your crisper and modify the soup to your liking. You can top it with some cubed avocado, coconut kefir or nacho crumbs. Enjoy! 
6 servings 
Prep time: 15 minutes
Cook time: 15 minutes
What you need:
1 tbsp coconut oil
1 large onion, diced
1 tsp ground cumin (more or less to taste)
1 tbsp chili powder (more or less to taste)
1 tbsp fresh ginger, grated
1 large carrot, cubed
1 large sweet potato, peeled and cubed
1 large yellow potato, peeled, and cubed
2 cups frozen corn (or more to taste)
1 fresh tomato, diced
6 cups bone broth
3 cups cooked black beans (2 x 398 ml can)
1/2 cup sauerkraut (optional)
1 lime, juiced
1 tsp salt
freshly ground pepper (to taste)
What you do:
In a large saucepan, melt the coconut oil. Add the onions and sauté until they have softened. Add the ginger, cumin and chili powder. Mix and cook for another minute.
Add all the vegetables and broth. Mix and bring to a boil. Then simmer for 15 minutes or until all vegetables have softened.
Add the beans, sauerkraut and any leftover chicken or fish (if using). Stir and heat through.
Pour into serving bowls, top with coconut kefir, cubed avocado or crushed nachos.
Bon appétit!
Substitution tips:
Replace the fresh tomato with 1/2 cup salsa.
Add some cooked leftover fish or chicken for more protein.
Add some chili pepper for more heat.
The soup will keep in the fridge for a few days or in the freezer for a month.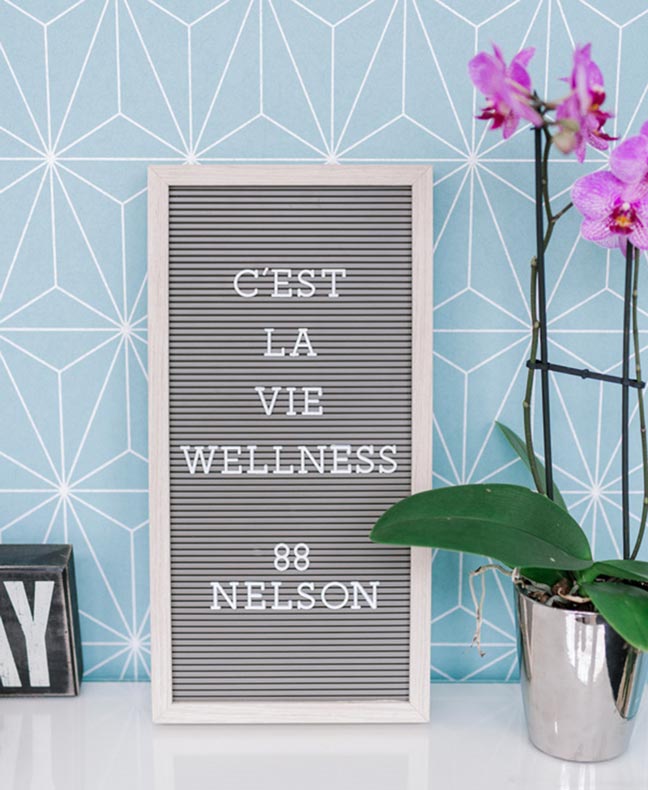 When it comes to food, the whole C'est La Vie Wellness team is on board. Some of us love to create while others enjoy testing some of our latest creations. Enjoy trying these recipes and please share pictures on your social media…and make sure to tag us! Bon appétit!