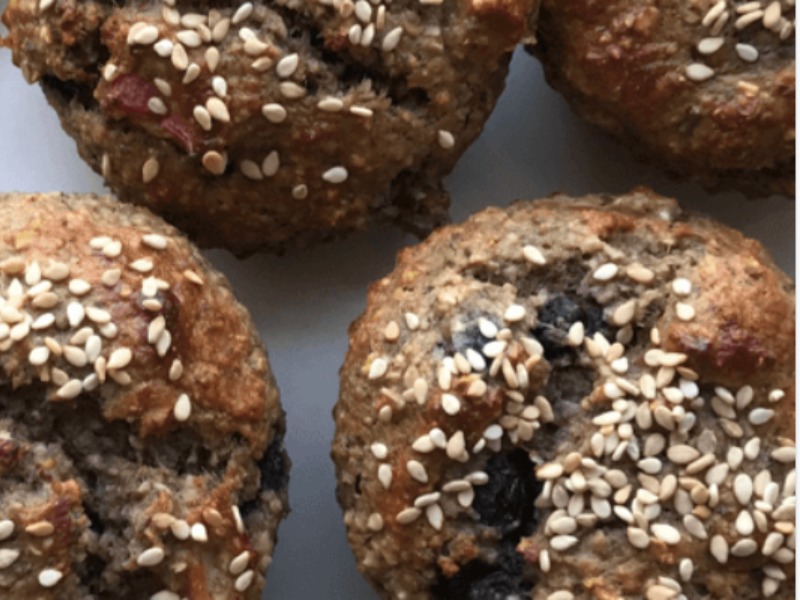 Trying to cut down on added sugar? These are the perfect muffins to keep you on track. Filled with berries and bananas, you will get your sugar fix from the fruits without the guilt. Enjoy them as a snack or for breakfast with a fruit. Freeze them and you have a go-to snack when in a hurry. Enjoy!
Makes 12 muffins. 
Prep time: 15 minutes
Cook time: 25-30 minutes
What you need:
1/2 cup almond meal (finely ground almonds)
1/4 cup unsweetened protein powder
3/4 cup ground oats*
1/4 cup ground flax seeds
1 tsp cinnamon
2 tsp baking powder
1/2 tsp sea salt
3 eggs
3 ripe bananas (mashed) 
1 cup strawberries (fresh or frozen, sliced in 1/4 inch pieces)
1/2 cup blueberries (fresh or frozen)
2 tsp sesame seeds (optional)
What you do:
Preheat oven to 350F. Line muffin tin with paper or silicone cups.
In a large bowl, blend together the dry ingredients (ground almonds, protein powder, ground oats, flaxseed, cinnamon, baking powder and salt).
In the small bowl of a food processor, mix together the eggs and bananas. Add to the dry ingredients.
Fold in the strawberries and blueberries. Fill the muffin cups with the mix (about 3/4 full) and sprinkle with sesame seeds if using.
Cook in preheated oven for 25-30 minutes or until firm to the touch. Let cool and enjoy!
*To make ground oat, just take rolled oats and reduce to a fine grind in your food processor.
Bon appétit!
Substitution tips:
Replace the blueberries or strawberries with another berry.
Replace the ground flaxseeds with more ground oats.
Replace the sesame seeds with pumpkin seeds or sunflower seeds as a topping.