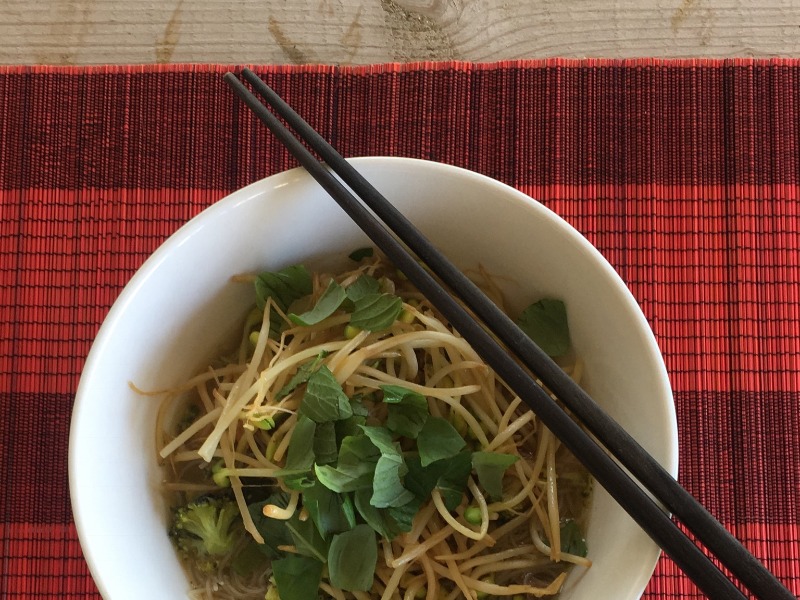 Inspired by my travels to Vietnam where I enjoyed Pho Soup regularly, I was determined to replicate it here at home. The key to keeping it authentic is to ensure you use the herbs and spices in the recipe. The rest of the ingredients are interchangeable and can be adapted to your taste preferences or diet requirements. I am happy to report that I came up with this easy recipe that will give you the true flavours of a Vietnamese Pho Soup. Travel through your taste buds to South East Asia while in the comfort of your own home. Enjoy! 
4 servings 
Prep time: 20 minutes
Cook time: 20 minutes
What you need:
200g pkg rice noodles
1 tbsp coconut oil
1 large onion, minced
2 tbsp grated gingerroot
3 cups bone broth (or vegetable broth)
2 cups broccoli florets
5 star anise pods
1 cinnamon stick
2 cups cooked chicken or extra-firm tofu
2 green onions, sliced
2 cups bean sprouts*
Tamari sauce
Hot sauce
Fresh herbs: mint, basil, cilantro
Sea salt and freshly ground pepper (to taste)
What you do:
Cook rice noodles according to package directions. Set aside.
In a large saucepan, melt the coconut oil. Add the onion and gingerroot and cook until softened. Add the bone broth, broccoli, star anise, and cinnamon. Simmer for 20 minutes.
Add the cooked chicken (or tofu) and heat through.
To serve, add the rice noodles to bottom of bowl. Pour the soup over them. Add the tamari and hot sauce to your liking. Top with bean sprouts, green onions and the fresh herbs.
* Lightly fry the bean sprouts beforehand to soften them.
Bon appétit!
Substitution tips:
Replace chicken or tofu with cooked beef, shrimps, or any other protein.
Replace the broccoli florets with another vegetable of choice like carrots or cauliflower.
Replace the tamari with soy sauce or coconut aminos.