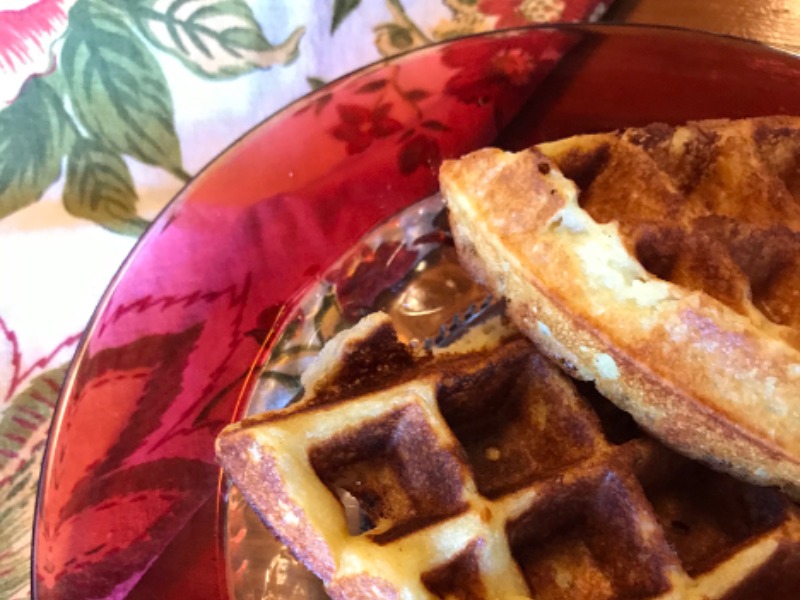 Love waffles but can't have gluten? No problem. This recipe will give you a great fluffy waffles and it contains some healthy ingredients too. Add some healthy toppings and you are good to go.  These will freeze quite well. Just take one out when you want and pop it in the toaster to thaw and crisp it up. Enjoy these anytime!  
Makes 6 large round waffles 
Prep time: 15 minutes
Cook time: 1-2 minutes per waffle (depending on the waffle iron used)
What you need:
1 1/2 cup gluten-free all-purpose flour*
1/2 cup gluten-free quick-cooking oats
1 tsp baking powder
1 tsp baking soda
1/2 tsp sea salt
2 tsp baking powder
3 eggs, lightly beaten
1 cup non-dairy unsweetened milk
2 tbsp pure maple syrup
1 tsp vanilla extract
1/4 cup coconut oil, melted
1/4 cup hemp seed oil
1 cup non-dairy yogurt 
What you do:
Preheat your waffle iron. In a large bowl, mix together the dry ingredients: flour, oats, baking powder, baking soda and salt.
In a medium bowl, whisk together the wet ingredients: eggs, milk, maple syrup, vanilla, coconut oil, hemp seed oil and yogurt.
Pour the wet ingredients over the dry ingredients and mix well. Add more milk if batter is too thick.
Pour batter in your waffle maker (the quantity will vary according to the waffle iron used).
Enjoy with healthy toppings such as berries, peach slices, banana slices, applesauce, chia jam, nut butters, yogurt, ground flaxseeds, hemp seeds, chopped nuts, or a drizzle some maple syrup.
*Bob's Red Mill All-Purpose Baking Flour was used to develop this recipe.
Bon appétit!
Substitution tips:
Replace the quick-cooking oats with rolled oats.
Replace the hemp seed oil with avocado oil or more coconut oil.
If you can tolerate dairy, use full-fat yogurt instead of dairy-free.