Peanuts in a soup? Why not! It adds an interesting crunch and the peanut butter adds a nice creamy texture to the whole soup.
Peanuts – Eat in Moderation
Peanuts contain good amounts of protein, fibre and a variety of valuable vitamins and minerals. One serving of peanuts (1 oz – 28 peanuts) will provide over 7g of protein and 2.5 g of fibre. Peanuts also contains  high amounts of Omega-6's in the form Arachidonic Acid, which has been linked to inflammation. They can also be mouldy and may increase allergic reactions. Omega-6 Fatty Acids are beneficial nutrients required for everyday biochemical functions. The problem is that our North American diet includes far too much of the Omega-6 fatty acids and this may lead to a myriad of inflammatory related health issues. Like any other food, moderation is key. So enjoy your peanuts, just not too much!
If allergies are a concern, feel free to substitute the peanuts for some sunflower seeds, and substitute the peanut butter for some sunbutter.
Click clv-creamy-tomato-peanut-soup for the printable version of this recipe.
6 servings
Prep time: 20 minutes
Cook time: 20 minutes
What you need:
1 tbsp avocado oil (or ghee)
1 large onion, chopped
2-3 garlic cloves, minced
2 tsp smoked paprika
1/2 tsp turmeric (or more to taste)
1 tsp chili flakes (or less to taste)
2 sweet potatoes, cubed (about 3 cups)
2 1/2 cups fire-roasted diced tomatoes, with juice (use a 796ml can)
1/4 cup sun-dried tomatoes*, chopped
1/2 cup raw peanuts, coarsely chopped
1/2 tsp sea salt
1 3/4 cup canned coconut cream (use 400 ml can)
1 cup bone broth (or water)
1/2 cup all natural peanut butter
4 cups spinach, coarsely chopped
fresh cilantro (optional for topping)
*To soften, immerse in boiling water for a few minutes. If they are in olive oil, then drain before adding to soup.
What you do:
Heat the avocado oil in a large saucepan over medium-high heat. Add onions and garlic and cook until softened. Add the paprika, turmeric and chili flakes. Stir and continue cooking for a minute until fragrant.
Add all the sweet potatoes, canned tomatoes, sun-dried tomatoes, peanuts, and bone broth. Mix and bring to a boil, then lower to a simmer. Continue simmering for about 20 minutes or until the sweet potatoes are soft.
Add the peanut butter and coconut cream. Stir and continue cooking for a minute or two.
Turn off the heat, add the spinach and stir until wilted. Taste and adjust seasonings.
Serve into soup bowls and top with more chopped peanuts and fresh cilantro. Enjoy!
Nutrient Information Per Serving:
Fat 32g     Carbs 29g     Fibre 6g     Sugar 12g     Protein 13g
Culinary Tips:
If you have a peanut allergy, then feel free to substitute with almonds and almond butter, or with sunflowers and sunbutter.
You can use coconut milk if you cannot find coconut cream.
Refrigerate or freeze any leftovers.
Bon appétit!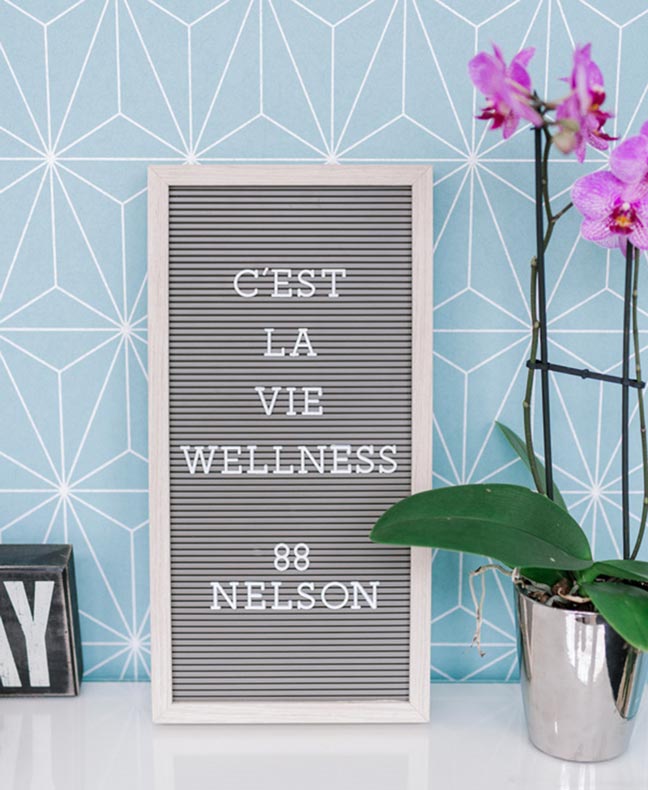 When it comes to food, the whole C'est La Vie Wellness team is on board. Some of us love to create while others enjoy testing some of our latest creations. Enjoy trying these recipes and please share pictures on your social media…and make sure to tag us! Bon appétit!