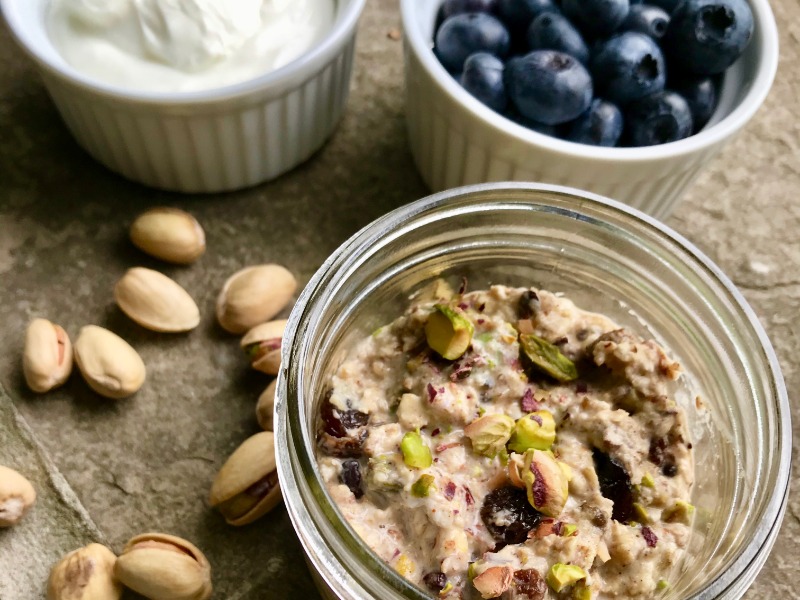 Feeling a little rushed in the morning? Need help getting a nutritious breakfast on the table for yourself and your family? This Pistachio Blueberry Muesli is the solution for your busy mornings. Prepare it the night before and store in the fridge in single serving containers. The next morning, just add your favourite toppings and you are good-to-go. Packed with nutritious ingredients, our Pistachio Blueberry Muesli provides a good amount of fibre, protein and healthy fats.
Pistachio – The Undervalued Nut
According to Nutrition Today, pistachios have the lowest calorie count of all the nuts. It also has the highest anti-oxidant and anti-inflammatory profile. As a great source of fibre, it is comparable to the almond for its prebiotic effect on the gut. Full of good fats, studies show that it may help with weight loss, cardiovascular health, and blood sugar balance. It is nutrient dense containing good amounts of minerals (potassium, phosphorus, magnesium and calcium) and vitamins (A, E, K, C, B and folate). It also has one of the highest protein content of all nuts. So next time you have a craving for something crunchy, grab a handful of pistachios and munch away. It will keep you satiated until your next meal.
Muesli – A Versatile Breakfast
According to the Marriam-Webster Dictionary, muesli is a cereal of Swiss origin that is composed of rolled oats, nuts and fruits. Soaked in milk or yogurt, it is a staple breakfast in many European countries. Our version, the Pistachio Blueberry Muesli, is packed with extra nutritious ingredients like cinnamon for blood sugar balance and cacao nibs for extra magnesium and antioxidants. Enjoy as is or with extra fresh fruits.
Click here for the printable version of our Pistachio Blueberry Muesli.
3 servings
Prep time: 10 minutes
Standing time: 30 minutes or overnight
What you need:
1 cup large flake oats
1 cup unsweetened almond milk
1/4 cup unsweetened applesauce
1/2 cup chopped pistachios
1/4 cup raisins
1 tsp cinnamon
2 tbsp cacao nibs (optional)
a pinch sea salt
1 tbsp ground flaxseeds
1 cup blueberries
1/2 cup coconut yogurt
What you do:
Mix the oats and milk in a bowl. Add the applesauce, pistachios, raisins, cinnamon, cacao nibs and salt. Let stand for 30 minutes or refrigerate overnight.
When ready to eat, add blueberries and yogurt.
Nutrient Information Per Serving:
Fat 16g     Carbs 50g     Fibre 10g     Sugar 18g     Protein 10g
Culinary Tips:
Once made, the recipe can be divided in separate small mason jars and taken to work or school to eat later. Toppings can be kept separate and added on when ready to eat.
Feel free to play around with the ingredients by using different nuts or seeds, and different dried fruits.
You can substitute the almond milk and coconut yogurt with any other non-dairy milk and yogurt.
Enjoy the muesli with various topics including other fresh fruits, hemp seeds, extra cinnamon, or coconut whipping cream.
Bon appétit!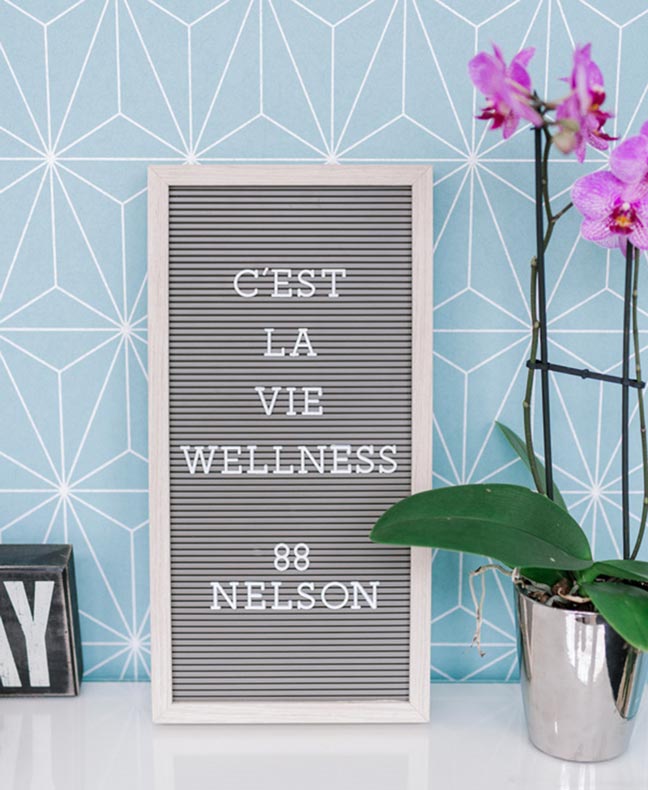 When it comes to food, the whole C'est La Vie Wellness team is on board. Some of us love to create while others enjoy testing some of our latest creations. Enjoy trying these recipes and please share pictures on your social media…and make sure to tag us! Bon appétit!