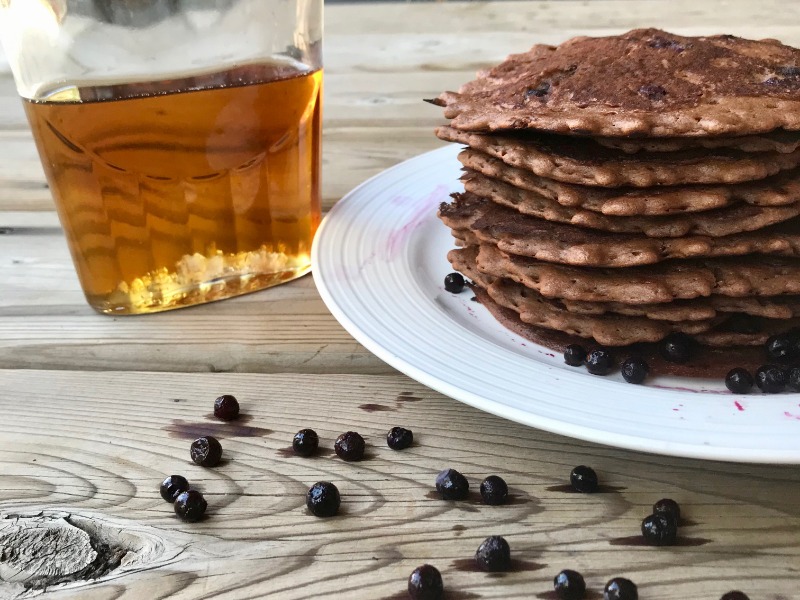 For many of us, breakfast is replaced by brunch on the weekends. And in our house, brunch means making our Chocolate Blueberry Pancakes, our Turmeric Pumpkin Pancakes or our Gluten Free Waffles. After experimenting with various gluten-free chocolate pancake recipes, we finally found a version that delivers taste and consistency. Inspired by Meghan Telpner's Chocolate, Chocolate, Say It Twice recipe from the Undiet Cookbook, we have developed our own delicious version. Replacing some of the flour with protein powder and adding an extra egg has helped increase the protein count. By topping it with some nut butter, dairy-free yogurt, or nuts and seeds, we add some healthy fats to complement it all.
Chocolate – The Darker the Better
According to Harvard's School of Public Health, dark chocolate is a great source of flavanols. Because dark chocolate has a higher ratio of cocoa solids, it is a much better choice than milk chocolate. Flavanols have been studied for their ability to relax blood vessels and improve blood flow. This translates in lower blood pressure and general benefits for cardiovascular health. Cocoa flavonoids have also shown positive effects on insulin sensitivity, which could help reduce the risk of metabolic conditions such as Type 2 diabetes. Dark chocolate is also a great source of various minerals such as iron, magnesium, copper, zinc, and phosphorus.
Watch Out For That Caffeine
Since caffeine is found in the cocoa solids, the darker the chocolate, the higher the caffeine content. If you are very sensitive to caffeine, you may want to forego dark chocolate in the afternoon or evening. However, there is no problem enjoying our Chocolate Blueberry Pancakes, early in the day!
Click here for the printable version of our Chocolate Blueberry Pancakes.
6 servings
Prep time:10 minutes
Cooking time: 2-3 minutes per pancake
What you need:
3/4 cup brown rice flour
1/2 cup arrowroot starch
1/2 cup buckwheat flour
1/4 cup unsweetened protein powder
1/4 cup cacao powder
2 tbsp baking powder
1/2 tsp salt
2 eggs
1 cup coconut milk
1 ripe banana mashed
1/4 cup maple syrup
3 tbsp coconut oil, melted (plus more for the pan)
1 tbsp tahini
1 tsp raw apple cider vinegar
1/2 cup blueberries, fresh or frozen
What you do:
In a mixing bowl, blend together the dry ingredients (first seven ingredients).
In a medium bowl, combine the rest of the ingredients, except the blueberries. Add the wet mixture to the dry ingredients.
Using a food mixer, blend until you get a homogeneous batter. If the batter is too liquid, add more flour. If it is too thick, add more water.
Melt 1 tbsp coconut oil in a frying pan over medium-high heat. Once heated, add approx. 1/4 cup of batter. Sprinkle some berries onto the batter in the pan. Cook until the batter bubbles up and the edges look dry. Flip it over and cook for a few more seconds. Continue with the remaining batter, adding blueberries directly as you cook each pancake.
When ready to eat, top with more blueberries if desired and drizzle with maple syrup.
Nutrient Information Per Serving:
Fat 13g     Carbs 52g     Fibre 5g     Sugar 13g     Protein 9g
Culinary Tips:
Once made, this recipe will keep well in the refrigerator for a few days. Just reheat in a frying pan.
You can replace the tahini with a nut butter.
You can use any non-dairy milk instead of the coconut milk.
The thicker the batter the thicker the pancakes so feel free to play around until you get the desired consistency.
Enjoy these alternative toppings: nut butters, yogurt, fresh fruit, nuts and seeds, honey.
Bon appétit!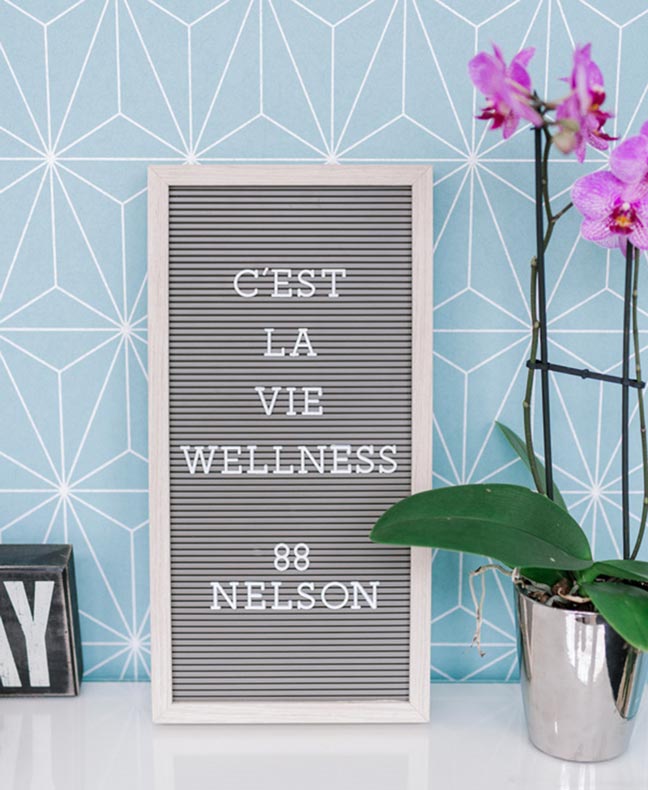 When it comes to food, the whole C'est La Vie Wellness team is on board. Some of us love to create while others enjoy testing some of our latest creations. Enjoy trying these recipes and please share pictures on your social media…and make sure to tag us! Bon appétit!