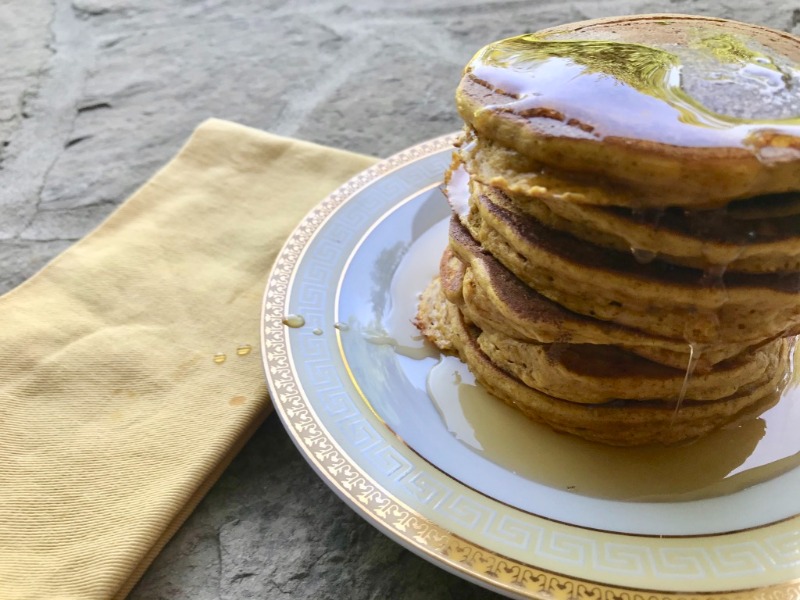 It can be a challenge to bake anything gluten free while still keeping the same amount of moistness and fluffiness. After experimenting with a few different recipes, these Turmeric Pumpkin Pancakes are a winner. You can make them sweet or savoury depending on what you decide to add to the batter. We have provided lots of suggestions for you.
Turmeric – The Star Ingredient
Turmeric is the star ingredient in these Turmeric Pumpkin Pancakes. The active ingredient in turmeric, curcumin, is know for its numerous health benefits, especially for its antioxidant and anti-inflammatory properties. Studies have shown that curcumin can help with the management conditions such as metabolic syndrome, arthritis, anxiety, cholesterol, muscle soreness, and exercise-induced inflammation.
Nutritious And Delicious
Because curcumin binds to fats, it is suggested to take it with a source of fat to enhance its bioavailability. Our Turmeric Pumpkin Pancakes contains coconut oil to help with this. By replacing part of the flour with some protein powder, we now have a more balanced pancake that has a good amount of protein, fibre, and fat. Only a few of these will keep you satiated until your next meal. Make sure to add your favourite toppings to enhance their deliciousness.
Our favourite version of this pancake: add 1 tsp of cinnamon and 1 tsp vanilla to the batter. Once cooked, butter them with some almond butter, top with some coconut yogurt and berries, and drizzle on some maple syrup! Delicious and nutritious!
Click here for the printable version of this recipe.
Makes approx. 15 small pancakes (one serving is 3 pancakes)
Prep time: 10 minutes
Cook time: 2-3 minutes per pancake
What you need:
1 cup pumpkin purée
1 1/2 cup almond flour or almond meal*
1/2 cup unsweetened protein powder
1/3 cup arrowroot flour
1/4 tsp sea salt
2 tsp turmeric powder (more or less to taste)
1 tsp baking powder
2 tbsp coconut oil, melted
4 large eggs
*You can make your own almond meal by grinding almonds in a high-speed blender until you get a fine grind.
Suggested toppings:
Sweet version: fresh berries, sliced bananas, almond or nut butter, seeds (ground or whole), nuts, dark chocolate chips, coconut yogurt.
Savoury version: salsa, sliced avocados, hummus, fried onions, garlic, mushrooms, tomatoes, fresh herbs.
What you do:
Add all the ingredients to the large bowl of your mixer. Blend until you get a smooth thick mixture (you could also use a blender for this part). If you prefer a thinner pancake, add 1-2 tbsp of water or non-dairy milk to the mix. It should be a smooth but fairly thick batter.
Add any optional ingredients if desired (see culinary tips below).
In a skillet, melt some coconut oil over medium heat. Add a scoop of the mix (about ¼ cup).   Using the back of a spoon, spread the mixture to form a small round pancake (approx. 4 inches in diameter). Cook until the top starts to look a little firm.  Flip over to cook the other side.  Approximately one minute per side.  Lower heat if needed.
Repeat with the rest of the mixture.
Top with your favourite ingredients (depending on whether you are doing savoury or sweet).
Nutrient Information Per Serving:
Fat 23g     Carbs 20g     Fibre 6g     Sugar 3g     Protein 15g

Culinary Tips:
For a sweet version you could add some of these to the batter: maple syrup, cinnamon, vanilla, nutmeg, orange zest, cocoa powder, blueberries, etc.
For a savoury version you could add some of these to the batter: garlic powder, herbs, spices, pepper, nutritional yeast, olives, sun-dried tomatoes, etc.
Bon appétit!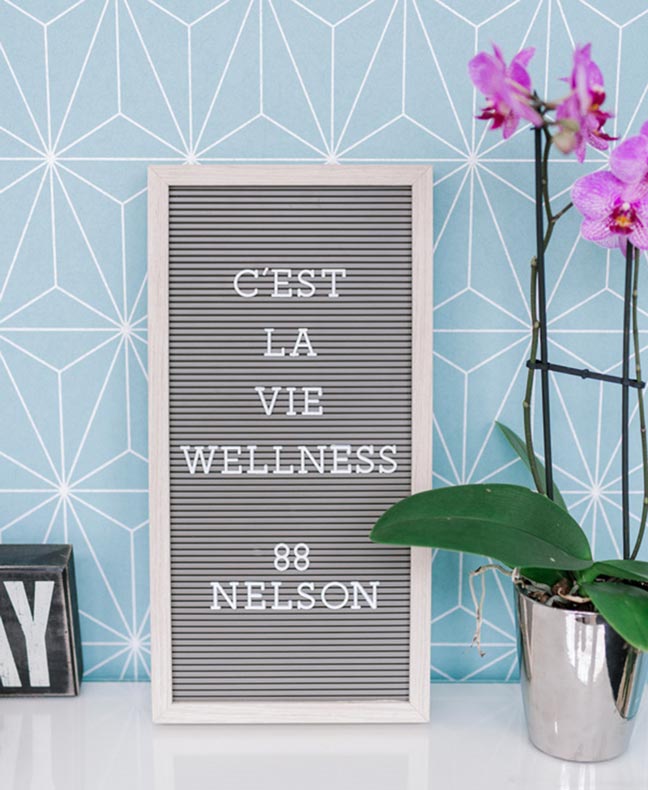 When it comes to food, the whole C'est La Vie Wellness team is on board. Some of us love to create while others enjoy testing some of our latest creations. Enjoy trying these recipes and please share pictures on your social media…and make sure to tag us! Bon appétit!