Oats – A Gluten-Free Alternative to Wheat
More and more people are developing an intolerance to wheat and/or gluten. If this is the case, consider using oats as an alternative in your baking or morning cereal routine. Oats are high in soluble fibre, especially beta-glucan. Research has shown that beta-glucan has cholesterol-lowering effects. It can be effective at stabilizing blood sugar levels thereby reducing the risks of diabetes & cardiovascular disease, obesity & metabolic syndrome.
The least processed the oats, the more fibre you will get. Instead of quick oats (porridge), experiment with whole oats, steel-cut oats, or even oat groats. One cup of whole oats will provide 16.5 g of fibre. Oats are also a great source of many essential vitamins and minerals.
In this recipe, we use oat flour which is obtained by grinding or blending the oats at high-speed. You can also purchase oat flour in natural health food stores.
Click banana-blueberry-oats-muffins for the printable version of this recipe.
Makes 12 muffins 
Prep time: 10 minutes
Cook time: 20-25 minutes
What you need:
2 cups oats
3 tbsp ground flaxseed
1/4 cup maple syrup
2 tbsp arrowroot powder
1 1/2 tsp baking powder
1/2 tsp baking soda
1/4 tsp salt
2 ripe bananas, mashed
2 eggs
1 tsp vanilla extract
1 tbsp apple cider vinegar
1/4 cup ghee
1/2 cup blueberries (fresh or frozen)
What you do:
Preheat oven to 350F. Line muffin tin with paper or silicone cups.
Using a high-speed blender, grind the oats until you get a flour consistency.
In a medium bowl, mix together all the dry ingredients (oat flour, flaxseed, arrowroot, baking powder, baking soda & salt). Set aside.
In a small bowl mix together the wet ingredients (mashed bananas, eggs, maple syrup, vanilla, cider vinegar, ghee).
Fold in the blueberries. Spoon into the prepared cups. Cook in the oven for 20-25 minutes or until golden brown
Nutrient Information per muffin:
Fat 6g     Carbs 21g     Fibre 2g     Sugar 7g     Protein 3g
Culinary Tips:
If you don't have a high-speed blender, you can try a coffee grinder or food processor. You can also purchase oat flour in most health food stores.
You can replace the blueberries with other berries.
Bon appétit!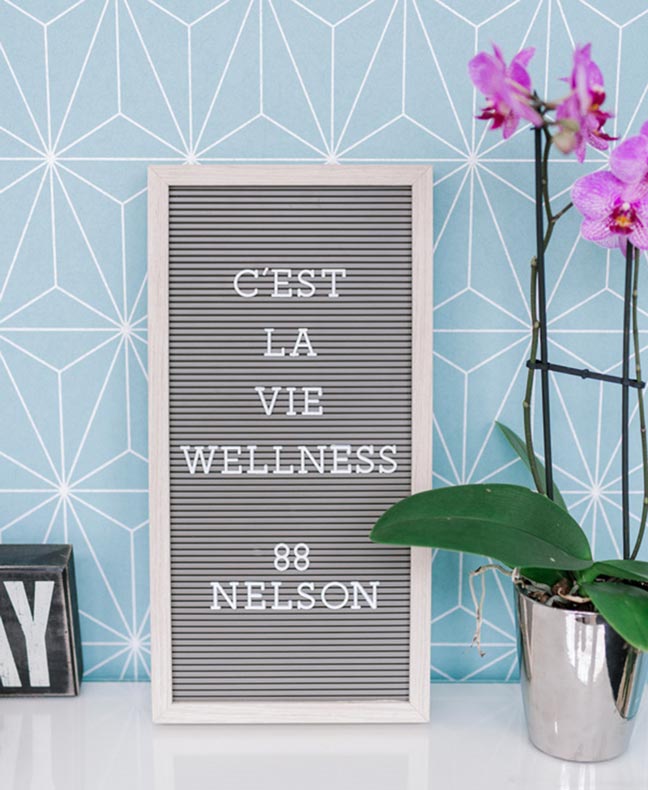 When it comes to food, the whole C'est La Vie Wellness team is on board. Some of us love to create while others enjoy testing some of our latest creations. Enjoy trying these recipes and please share pictures on your social media…and make sure to tag us! Bon appétit!