Butternut Squash – A Taste of Autumn
Soups are certainly a staple in many Canadian households, especially during the cooler months of the year. If you like creamy soups, then squashes are the perfect choice. By roasting the butternut squash, we give it a caramel-like natural sweetness. Adding some fresh sage and rosemary just elevates our Roasted Butternut Squash Soup to the next level. If you like this soup, you may also like our Spicy Pumpkin Soup. 
Other varieties of squashes include acorn, delicata, pumpkin, hubbard, kabocha and spaghetti squashes. Zucchinis are also part of this family and are often called summer squash.
Health Benefits of Butternut Squash
According to this article in Food Science and Nutrition, "butternut squash is beneficial in combating macular degeneration, heart health, and immune function due to the quite high level of carotenoids which are able to convert to vitamin A in the body. " The high fiber content of squash can also play a positive role in the prevention of colorectal cancer.
Click roasted-butternut-squash-soup for the printable version of this recipe.
Makes 6 servings 
Prep time: 20 minutes
Cook time: 50 minutes
What you need:
2 tbsp olive oil
1 medium size butternut squash
2 parsnips, chopped*
2 tbsp ghee or grass-fed butter
1 large onion, diced
3 cloves garlic, minced
3 stalks celery, chopped
1 tbsp fresh sage, finely chopped
1 tbsp fresh rosemary, finely chopped
1 tbsp turmeric powder
3 cups bone broth
1 400ml can full-fat coconut milk
Sea salt & freshly ground pepper, to taste
Toasted Butternut Squash Seeds for topping (optional)
*If parsnips are organic, there is no need to peel them. Just scrub to remove the excess dirt.
What you do:
Preheat oven to 400C. Line a large baking sheet with parchment paper. Set aside.
Peel the butternut squash. Remove the seeds and stringy parts. Cut in even sized cubes and add to a large bowl with the cubed parsnip. Drizzle the olive oil and mix in. Add to the baking sheet in a single layer. Roast in the oven for 40 minutes or until soft.
While squash is roasting, melt butter in a large saucepan over medium-high heat. Add the onions and cook until softened. Add the garlic, herbs, & turmeric. Mix well and continue cooking for a minute. Add the celery and 1 cup of the broth. Let simmer for 15 minutes.
Remove the roasted vegetables from the oven and add to the celery-onion mix. Add bone broth, just enough to cover the vegetables. Heat through for another 5 minutes. Pour in the coconut milk and mix. Let cool slightly & blend in batches in your blender or using an immersion blender. Return to saucepan and heat through. Adjust seasoning to your taste.
Ladle into bowls and top with toasted butternut squash seeds or pumpkin seeds. Enjoy!
Nutrient Information per serving:
Fat 28g     Carbs 30g     Fibre 7g     Sugar 8g     Protein 10g
Culinary Tips:
If you can't find butternut squash, you can use another type of squash or a pumpkin.
If the soup is too thick, add more broth.
You can replace the parsnips with carrots.
Do not throw out the seeds of your butternut squash. Dry them, then mix with some olive oil and seasoning. Toast in 350C oven for 10-15 minutes. Check every few minutes to ensure they are not burning.
Bon appétit!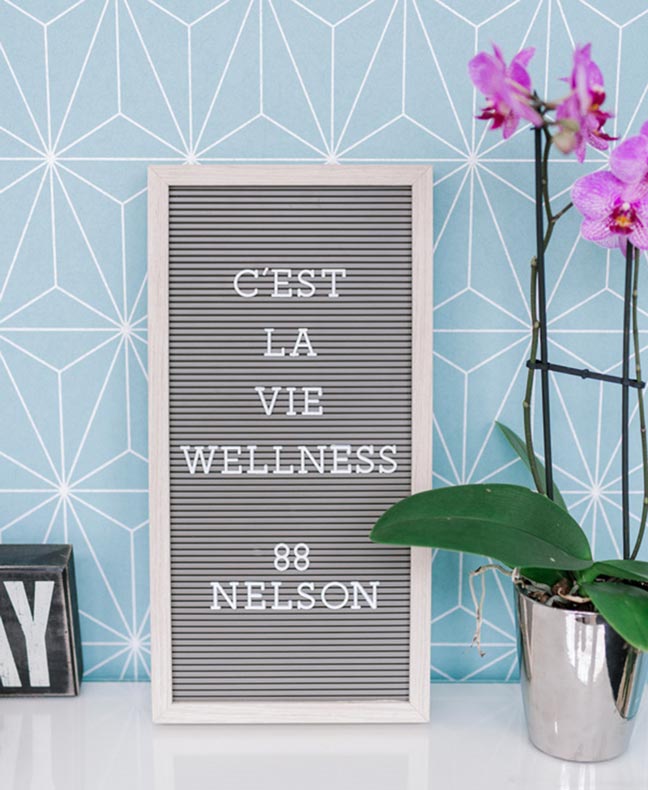 When it comes to food, the whole C'est La Vie Wellness team is on board. Some of us love to create while others enjoy testing some of our latest creations. Enjoy trying these recipes and please share pictures on your social media…and make sure to tag us! Bon appétit!