Cauliflower – the New Darling of the Nutrition World
Cauliflower has become very popular in the nutrition world, especially for people on a low-carb type of diet. Because of its low-calorie count (1 cup raw = approx. 25 calories), it is a great choice for anyone looking to lose weight. It is very versatile and you can now find it as a replacement for rice, for mashed potatoes, as an ingredient in pizza crust, in soups and in smoothies like our Chocolate Cauliflower Smoothie. Luckily it is packed with beneficial nutrients so the more the better.
The Benefits of Cauliflower
Cauliflowers are part of the cruciferous family of vegetables. These are known to be high in glucosinolates and isothiocyanates (including sulforaphane). These groups of antioxidants have been shown to slow the growth of cancer cells.
Cauliflowers contain many essential vitamins and minerals. They are especially high in vitamin C: 1 cup of raw cauliflower provides 77% of the recommended daily intake of vitamin C.
They are also a great source of fibre, helping to nourish the gut and to provide a feeling a satiety which can help with hunger control and weight loss.
Finally, cauliflowers are a good source of choline. Choline is essential for the integrity of the cell membranes, for brain development and the production of neurotransmitters.
If you are not a fan of the taste, then using it our Chocolate Cauliflower Smoothie is a great way to start. You will not taste it but you will love how it adds creaminess to your smoothie. Enjoy this decadent way to start your morning!
Click chocolate-cauliflower-smoothie-clv for the printable version of this recipe.
Makes 2 servings 
Prep time:  5 minutes
What you need:
2 cups cauliflower flowerets (blanched* and frozen)
1 ripe banana (frozen)
2 tbsp almond butter
1/4 cup cacao powder
1/2 cup protein powder
2 cups oat milk (or any non-dairy milk)
1 tbsp maca powder
What you do:
Combine all ingredients in a high-speed blender. Blend until you get a smooth consistency. Pour in your favourite glass or Mason jar and enjoy!
Nutrient Information per muffin:
Fat 16g     Carbs 37g     Fibre 15g     Sugar 13g     Protein 30g
*Culinary Tips:
To blanch the cauliflower flowerets: add to a steamer basket and steam for a few minutes until they are just softened a little. Cool down and freeze until ready to use.
Make it mocha by replacing half of the almond milk with chilled coffee.
If you don't have any maca powder, simply leave it out or replace it with cinnamon powder.
Bon appétit!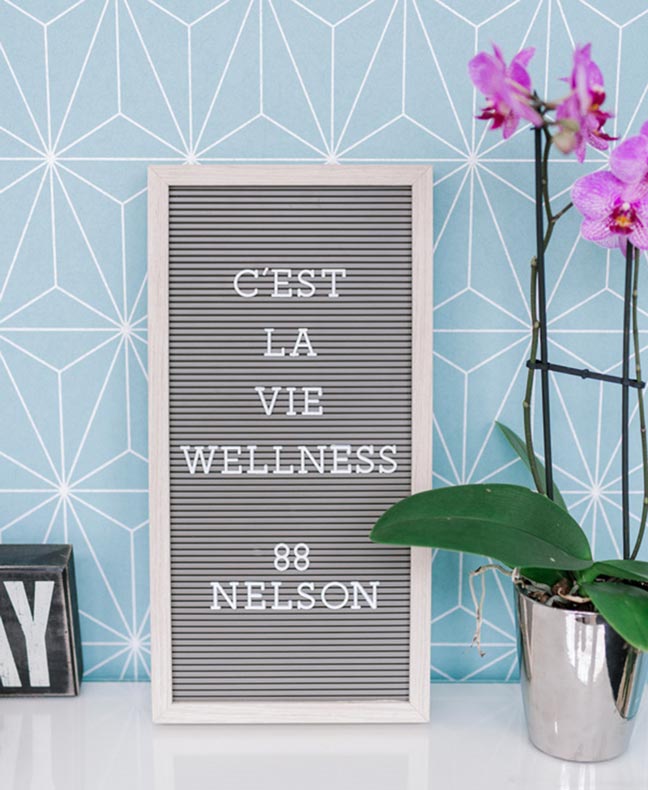 When it comes to food, the whole C'est La Vie Wellness team is on board. Some of us love to create while others enjoy testing some of our latest creations. Enjoy trying these recipes and please share pictures on your social media…and make sure to tag us! Bon appétit!