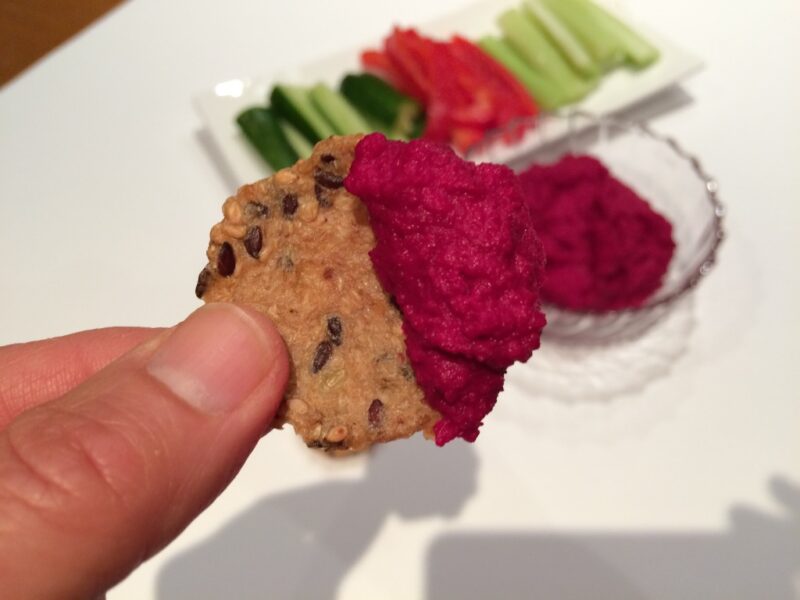 Our Roasted Beet Hummus is definitely a crow-pleaser when it comes to dips. The beets add a vibrant pink colour to the finished product and makes it a beautiful addition to a Friday night charcuterie board. Enjoy with some seed crackers or veggie sticks.
Beets – For Overall Health
Beets are a powerhouse when it comes to nutritional value. They are low in calorie and rich in many essential vitamins and minerals, especially folate and manganese. Due to their high concentration of nitrates, beets have been studied for their ability to lower blood pressure, therefore reducing the risk of heart disease. Nitrates have also been associated with better brain function as they help dilate blood vessels which means better blood flow to the brain. Beets contain a pigment called betalain which can help reduce overall inflammation in the body.One cup of beets will provide about 3.5 grams of fibre. More fibre intake means a healthier digestive system.
Nutritious And Versatile
Beets are delicious whether eaten raw or cooked. Roast them and add to a buddha bowl or grate them raw as a colourful addition to a salad or veggie roll. Add them raw or cooked to your smoothies. Juice them to get even more of the benefits.
By roasting the beets for our Roasted Beets Hummus, we are enhancing the natural sugars in them adding a beautiful rich taste to our dip.
Click roasted-beet-hummus for the printable version of this recipe.
8 servings
Prep time: 15 minutes
What you need:
2 beets (roasted)
2 cup cooked chickpeas
1 garlic clove, crushed
1 lemon, juiced
2 tbsp tahini
1 tsp cumin
3 tbsp cup extra-virgin olive oil
1/2 tsp sea salt
What you do:
Combine all the ingredients (except the olive oil) in a food processor or high-speed blender and purée. You may need to scrape the sides a few times.
Add the olive oil slowly and continue blending until smooth. If it is too thick, you can add more olive oil or a bit of water.
Taste and adjust seasoning according to taste. Serve with your choice of raw vegetables or seed crackers. Refrigerate any leftovers. It should keep for at least a week.
Nutrient Information Per Serving:
Fat 8g     Carbs 15g     Fibre 4g     Sugar 4g     Protein 5g
Culinary Tips:
To roast the beets, wrap each individually in aluminum foil and roast at 425F for an hour or until tender. Let it cool, then peel and cut into chunks.
Adapted from a recipe in Spilling the Bean Cookbook by Julie Van Rosendaal & Sue Duncan.
Bon appétit!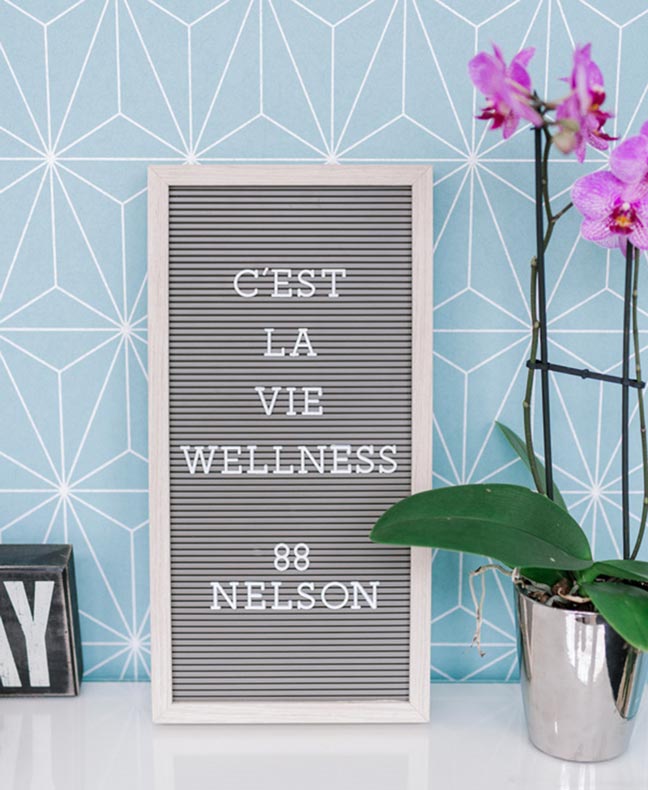 When it comes to food, the whole C'est La Vie Wellness team is on board. Some of us love to create while others enjoy testing some of our latest creations. Enjoy trying these recipes and please share pictures on your social media…and make sure to tag us! Bon appétit!