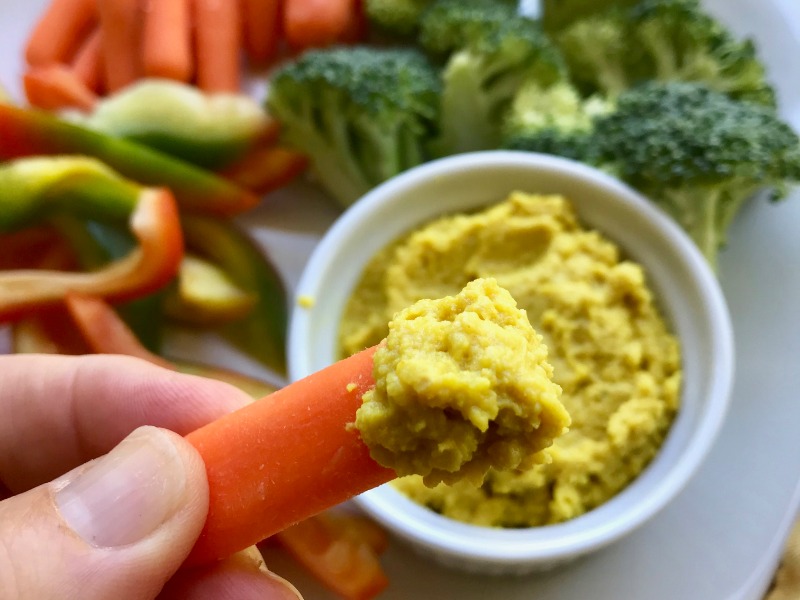 Dips are an excellent snack to have on hand when cravings hit. Our Quick Turmeric Hummus will not disappoint. It is quick and easy to prepare and super healthy, especially when served with your favourite veggies.
Turmeric – The Star Ingredient
Turmeric is the star ingredient in this Quick Turmeric Hummus. The active ingredient in turmeric, curcumin, is know for its numerous health benefits, especially for its antioxidant and anti-inflammatory properties. Studies have shown that curcumin can help with the management of conditions such as metabolic syndrome, arthritis, anxiety, cholesterol, muscle soreness, and exercise-induced inflammation.
Nutritious And Delicious
Because curcumin binds to fats, it is suggested to take it with a source of fat to enhance its bioavailability. Our Quick Turmeric Hummus contains tahini and olive oil, both great sources of healthy fats. Chickpeas, the main ingredient in this dip, are a great source of plant-based protein as well as fibre. This savoury snack should keep you satiated until your next meal!
Click here for the printable version of this recipe.
4 servings
Prep time: 5 minutes
What you need:
2 cup cooked chickpeas
1 garlic clove, crushed
1 tbsp tahini
3 tbsp balsamic vinegar
1/4 cup extra-virgin olive oil
1/2 tsp turmeric powder (or more to taste)
1/2 tsp sea salt
What you do:
Add all the ingredients to a food processor and blend until you get a homogenous texture. Taste and adjust seasonings.
For a lighter and spreadable dip, add more olive oil.
Serve with your favourite raw veggies, tortilla chips, gluten-free crackers, in a wrap or as a sandwich spreat.
Nutrient Information Per Serving:
Fat 18g     Carbs 26g     Fibre 7g     Sugar 6g     Protein 8g
Culinary Tips:
Store in an air-tight container in the fridge up to 3-5 days, or in the freezer up to 6 months.
You can replace the balsamic vinegar for some raw apple cider vinegar.
Bon appétit!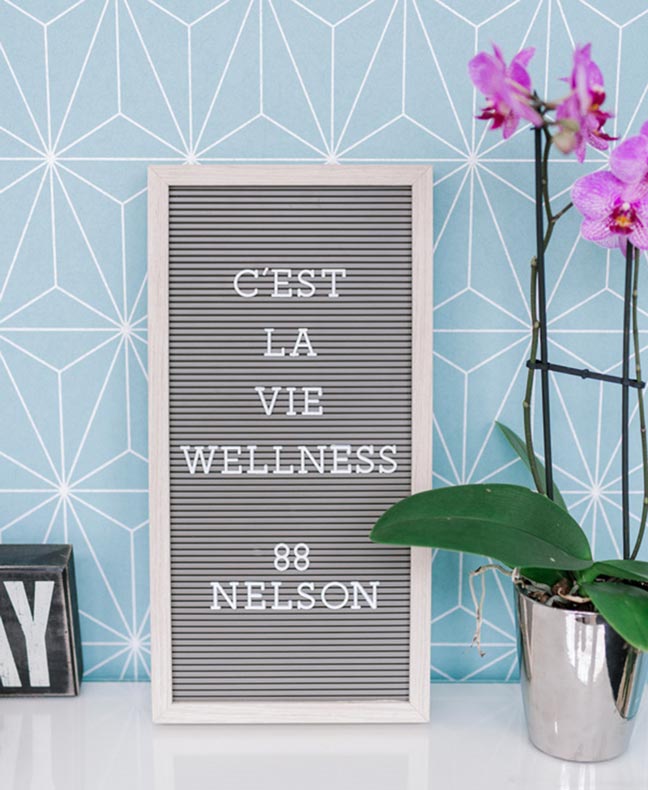 When it comes to food, the whole C'est La Vie Wellness team is on board. Some of us love to create while others enjoy testing some of our latest creations. Enjoy trying these recipes and please share pictures on your social media…and make sure to tag us! Bon appétit!