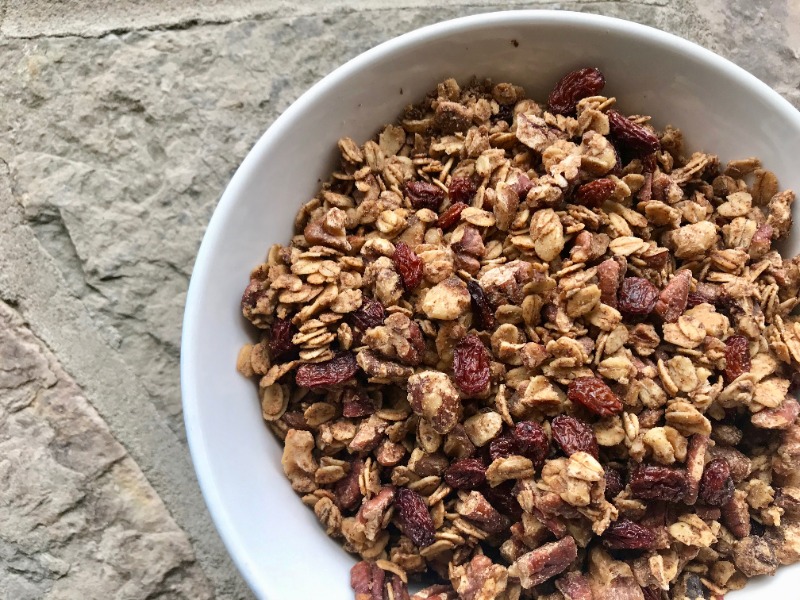 Make It Once – Enjoy It All Week
The beauty of our Easy Nutty Granola is that you can make a large quantity. Then you have it on hand for meals and snacks throughout the week. You can vary the nuts and dried fruit used. We love using pecans and walnuts because their flavour really shines through when roasted. Adding dried fruits brings in an extra touch of sweetness.
Walnuts – An Excellent Source of Omega-3
Another reason we chose walnuts for our Easy Nutty Granola, is that they are an excellent source of Omega-3, making them anti-inflammatory and great for the nervous system, including the brain. Rich in various phytonutrients and antioxidants, they are protective against metabolic syndrome, cardiovascular disease, and Type 2 Diabetes. Walnuts are versatile and can be added to various dishes including as toppings on oatmeal, salads, baking, etc.
Are You a Granola?
You may have heard of people being called "granola". According to the definition on this site, it means someone who is outdoorsy and wholesome. In our case, we added the nuts to our granola. Guess it makes us nutty as well! We hope you enjoy this Easy Nutty Granola outdoors or indoors. It will definitely keep you wholesome!
Click here for the printable version of this recipe.
Makes 4 cups 
Prep time: 15 minutes
Cook time: 30-40 minutes
What you need:
2 cup large flake oats
1 cup chopped pecans
1 cup chopped walnuts
1 tbsp cinnamon
1/4 tsp salt
2 tbsp coconut oil
2 tbsp almond butter
2 tbsp maple syrup
1/2 cup dried fruit*
*Some of our favourite dried fruits are cherries, raisins, cranberries, and apricots (cut in smaller pieces).
What you do:
Preheat oven to 300F. Line a large baking sheet with parchment paper and set aside.
In a medium bowl, combine the oats, nuts, cinnamon, and salt. Mix well.
In a small saucepan, combine the coconut oil, almond butter and maple syrup. Heat over low heat. Whisk together until melted and well blended.
Combine dry ingredients with wet ingredients, until evenly moist. Spread on the baking sheet in one single layer.
Bake for 30 minutes, checking and mixing every 10 minutes. Remove from the oven, add your dried fruit and return to the oven for another 5-10 minutes. Granola is done when it is browning and dry. Remove from the oven and let dry completely at room temperature.
Nutrient Information Per 1/2 cup:
Fat 21g     Carbs 30g     Fibre 5g     Sugar 11g     Protein 6g
Culinary Tips:
Store in an airtight container at room temperature for a week or in the freezer for a month.
Feel free to experiment with various nuts, seeds and dried fruits for this recipe.
Bon appétit!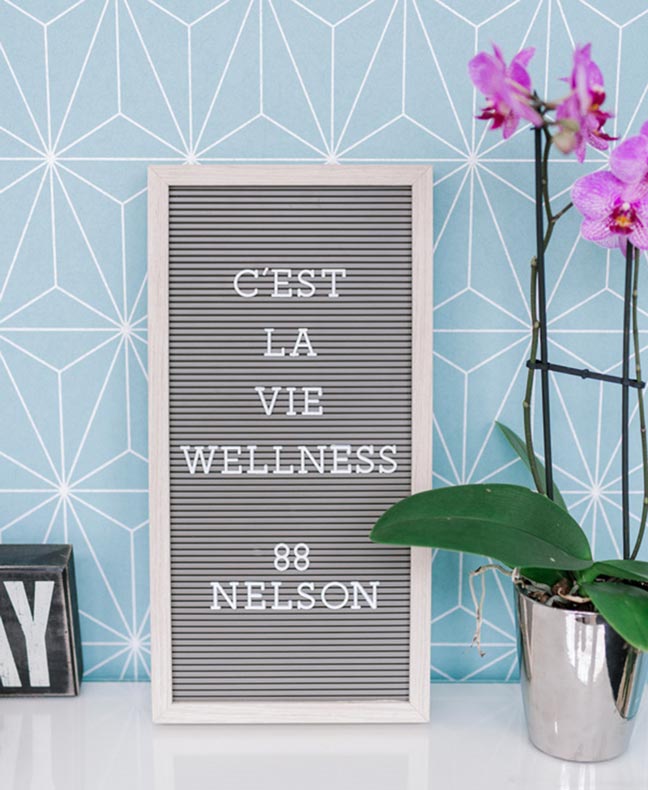 When it comes to food, the whole C'est La Vie Wellness team is on board. Some of us love to create while others enjoy testing some of our latest creations. Enjoy trying these recipes and please share pictures on your social media…and make sure to tag us! Bon appétit!