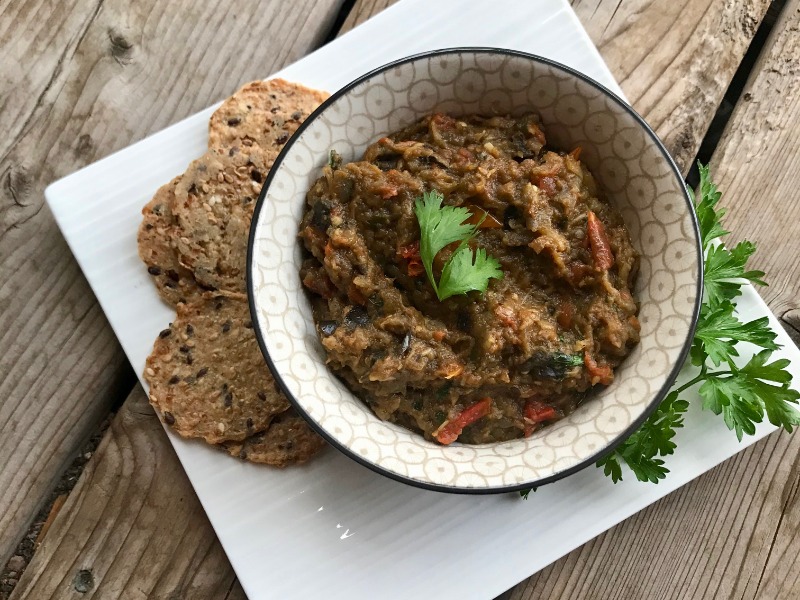 A Dip Into Moroccan Culture
A few years ago, Lyne attended a class entitled "A Night In Morocco With Nezha Saad".  She learned how to make various Moroccan dishes and had the pleasure of sharing a meal with others afterwards. Her favourite dish was the Zaalouk, also called Moroccan Eggplant Salad. What a great way to use eggplants! After experimenting with the ingredients, she found the perfect balance of spices and herbs to suit her palate. Enjoy!
The spices in this dish will transport you to the Mediterranean area. Although Moroccans enjoy this as a salad, we love to use it as a dip with raw veggies, crackers or pita bread. It can be served warm or cold. It would also be great as a spread on sandwiches or a topping on a fresh greens salad.
Eggplants: More Than A Nightshade Vegetable
Eggplants are a staple in many Mediterranean dishes, whether in ratatouille, moussaka, baba ganoush, or eggplant parmigiani. Eggplants are part of the nightshade family of vegetables because they contain alkaloids. Some anecdotal evidence suggests it may increase inflammation in certain people but more research needs to be done. For most, this is a nutritious and healthy vegetable to add to one's diet, especially because of its deep purple colour. According to whfoods, the skin of eggplants contain a flavonoid called nasunin. In animal studies, it was found that nasunin is a powerful antioxidant and can protect cells from free radical damage.
If you have your own garden, then consider growing eggplants as part of your crops. To learn more, check out this article on the Happy DIY Home website.
How to Roast An Eggplant
Since the skin contains so many of the healthy compounds in eggplant, it is a good idea to keep it for your dishes. By roasting the eggplant, you soften the skin and make it more palatable. To roast, cut the eggplant in half lengthwise. Put cut side down on a parchment paper-lined baking sheet. Roast at 350C for 15-25 minutes (depending on the size). The eggplant is done when you can insert a fork easily through it.
Click here for the printable version of this recipe.
Makes approx. 2 cups 
Prep time: 10 minutes (+ 15-25 minutes roasting time for the eggplant)
Cook time: 15-20 minutes
What you need:
1 large eggplant, roasted and chopped
1-2 tomatoes (about 1 cup chopped)
3 cloves garlic, crushed (or more to taste)
1/4 cup chopped fresh cilantro
1/4 cup chopped fresh parsley
1 tsp apple cider vinegar
1 tbsp paprika
1 tbsp cumin
1/2 tsp ground coriander
1 tsp salt (more or less to taste)
1/8 tsp cayenne pepper
1/4 cup olive oil
What you do:
Heat the olive oil in a skillet over medium heat. Add the rest of the ingredients and mix well.
Cover and simmer for 15 to 20 minutes. Mix regularly. Adjust the heat to prevent the zaalouk from burning. Press down once in a while to get a nice purée. Taste and adjust the seasonings.
Let cool and serve warm with raw vegetables, crackers, or pita slices.
Nutrient Information per 1/2 cup:
Fat 14g     Carbs 12g     Fibre 5g     Sugar 5g     Protein 2g
Culinary Tips:
You can roast the eggplant in advance to save on prep time.
Use whole grains of cumin and coriander and grind them fresh to get even more flavour.
This dish can be served warm or cold. It will keep in the fridge for 4-5 days.
Bon appétit!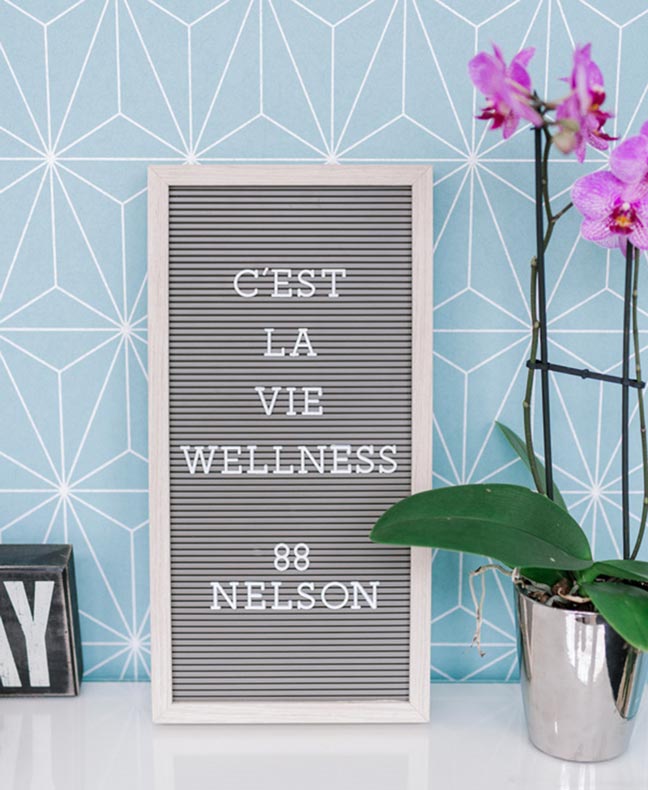 When it comes to food, the whole C'est La Vie Wellness team is on board. Some of us love to create while others enjoy testing some of our latest creations. Enjoy trying these recipes and please share pictures on your social media…and make sure to tag us! Bon appétit!