Beets in a Chocolate Cake? Why not!
If you can have grated carrots or grated zucchinis in a loaf, then why not have raw grated beets in a chocolate cake! Beets are naturally sweet and bring a whole lot of nutrition to a cake without compromising the flavours.
Versatile Beets
Beets are a wonderful versatile vegetable that can be enjoyed raw or cooked. Grate some raw beets and add them to your vegetable salad. Add to a high-speed blender to make a colourful smoothie or s smoothie bowl. Boil them or roast them with other root vegetables to add as a side to your favourite protein.  Use them in soups like my own Borscht soup. And of course, add them to a chocolate cake batter for a delicious yet nutritious Beet Chocolate Cake.
Beets: Your Liver's Best Friend
Beets are a great source of a family of phytonutrients called betalains. These provide antioxidant, anti-inflammatory and detoxification support to the body. Betalain are also responsible for giving beets that vibrant red colour which is partly responsible for turning your pee red. Why does this happen? According to McGill University, low stomach acid may be responsible for the discoloration of your urine, when you consume beets.
Beets are also an excellent source of dietary fibre, especially when eaten raw. This has many benefits for gut health.
Click raw-beet-chocolate-cake for the printable version of this recipe.
Makes 8 servings 
Prep time: 20 minutes
Soaking time: 30-35 minutes
What you need:
2/3 cup ghee
1/2 cup maple syrup
1 3/4 oz dark organic chocolate
2 beets (peeled, grated, approx. 2 cups)
3 eggs
1 cup whole grain flour
1/2 cup almond flour
2 tsp baking powder
1/3 cup cocoa powder
pinch salt
icing sugar
What you do:
Preheat oven to 350F. Grease a small bundt pan (or loaf pan) with ghee or coconut oil. Dust with flour to prevent sticking.
Over low heat, melt together the ghee, maple syrup and chocolate pieces, stirring constantly. Remove from heat and let cool. Add the eggs and mix well.
In a large bowl, mix together the dry ingredients: whole-grain flour, almond flour, baking powder, cacao powder and salt. Mix well.
Pour wet ingredients into dry ingredients and mix lightly until well blended. Fold in the grated beets until evenly mixed.
Pour into greased bundt pan or loaf pan and bake for 30-35 minutes (45-50 minutes if using a loaf pan) or until a toothpick inserted in the middle comes out clean. Let cool. Remove from pan.
Dust with icing sugar or serve with whipped coconut cream.
Nutrient Information per 1/2 cup:
Fat 25g     Carbs 38g     Fibre 6g     Sugar 15g     Protein 6g
*Culinary Tips:
For a dairy-free version, replace the ghee with coconut oil.
For a gluten-free version, replace the whole grain flour with gluten-free all purpose flour.
Bon appétit!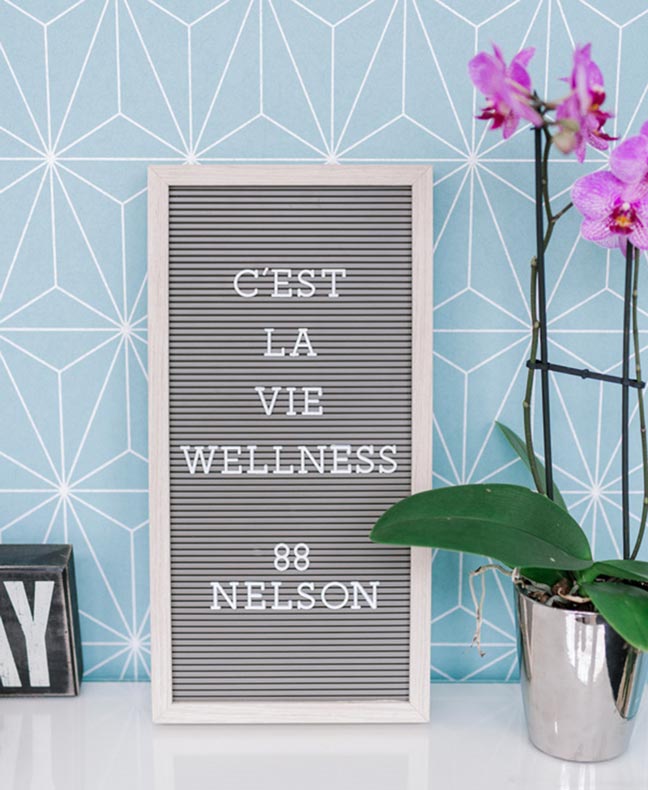 When it comes to food, the whole C'est La Vie Wellness team is on board. Some of us love to create while others enjoy testing some of our latest creations. Enjoy trying these recipes and please share pictures on your social media…and make sure to tag us! Bon appétit!