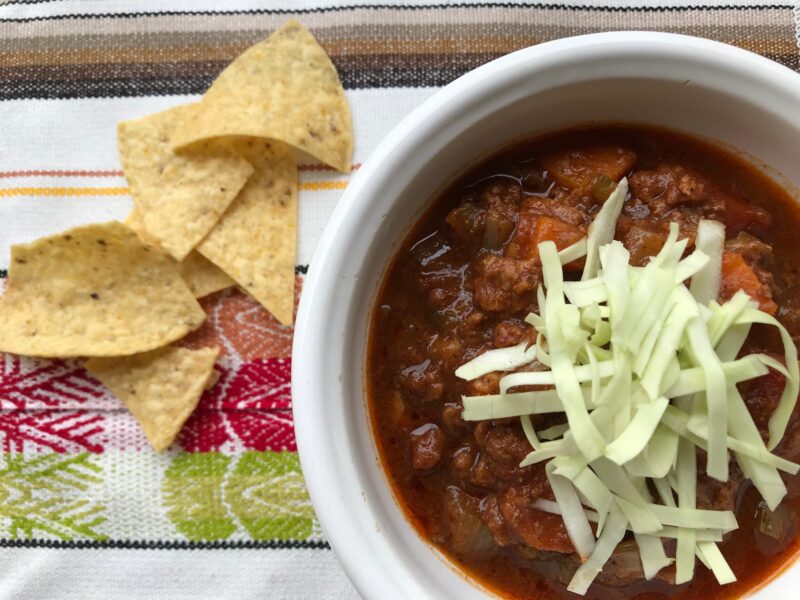 Fall means football season and cooler evenings. And nothing beats a great bowl of chili on a Sunday night while watching the game. This chili incorporates fall vegetables and is versatile. Add whatever you have on hand. The pumpkin purée gives it a nice thick consistency. 
Makes 8 servings
Prep time: 15 minutes
Cook time: 3-4 hours on HIGH or 6-8 hours on LOW
What you need:
2 lbs ground beef
2 medium onions, diced
6 garlic cloves, crushed
1 green pepper, diced
2 large carrots, diced
2 tbsp cumin
2 tsp paprika
1 large can diced tomatoes (796 ml)
2 cups pumpkin purée
2 tsp salt
Optional toppings:
coconut yogurt
green onions, thinly sliced
cabbage, thinly sliced
nachos chips (to scoop)
What you do:
In a large skillet over medium-high heat, cook the ground beef until no pink remain. Transfer to the slow-cooker.
Add chopped onions to the skillet and cook until softened. Transfer to the slow-cooker.
Add all other ingredients to your slow-cooker and mix. Let simmer on LOW 6-8 hours or on HIGH 3-4 hours. Enjoy with your favourite toppings. 
Bon appétit!
Useful tips:
Store in an airtight container in the fridge for 3-4 days. 
Will freeze very well for up to three months.