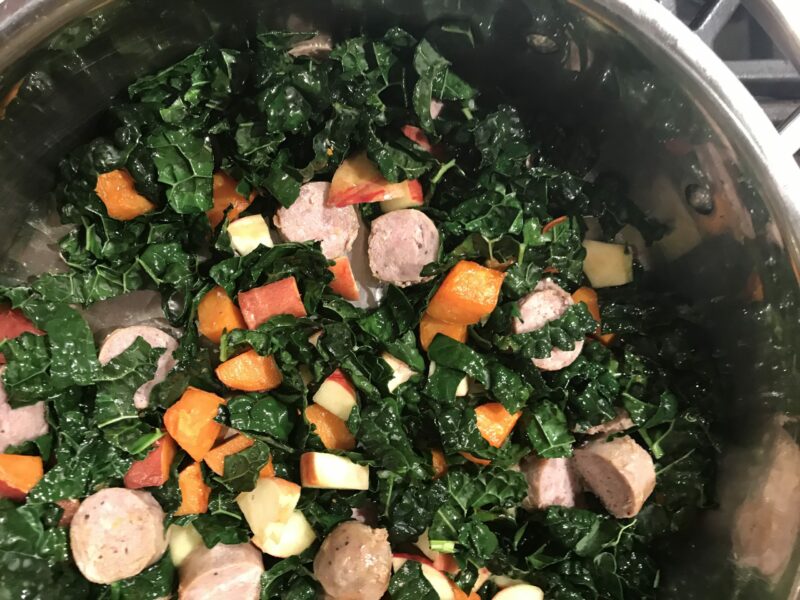 Need a quick and easy meal that is filling and nutritious. Then a hash is what you want. Hash comes from the French term "haché" which means chopped. A hash is basically a mix of meat, potatoes, and any other chopped leftover veggies. In this version, we use organic pork sausage, sweet potatoes, apples and kale. Simple and quick to prepare. Pre-cook the sausages to save on time. 
Makes 4 servings
Prep time: 10 minutes
Cook time: 10 minutes
What you need:
2 tbsp ghee or coconut oil
1 large organic sweet potato, unpeeled, diced
6 cups kale, de-stemmed and chopped
1 large organic apple, unpeeled, diced
2 organic cooked pork sausages, cut in 1-inch slices
1 lime, juiced
sea salt and freshly ground black pepper (to taste)
What you do:
In a large saucepan over medium-high heat, melt the ghee or coconut oil. Add the sweet potatoes and sauté for 1 minute. Then turn down the heat to medium-low, cover, and continue cooking for another 5 minutes or until sweet potatoes are tender.
Add the kale and apple to the skillet. Cover and continue cooking for another 1-2 minutes until kale is wilted but still a vibrant green.
Add to the sliced sausages to the skillet and cook for 1-2 minutes or until they are heated through.
Drizzle lime juice over everything and season with salt and pepper to taste. Enjoy!
*To cook sausages, use a dry skillet. Add the sausages and brown on all sides over medium-high heat for about 5 minutes. Turn down heat to medium-low. Add a small amount of water to the bottom of the pan. Cover and continue cooking for another 10-15 minutes until no longer pink inside.
Bon appétit!
Prep tips: 
Cook your sausages on the weekend and store in the fridge until ready to use. This will cut down on your meal time.
Keep your kale stems and freeze them. Then add them to your smoothie or use them when making bone broth.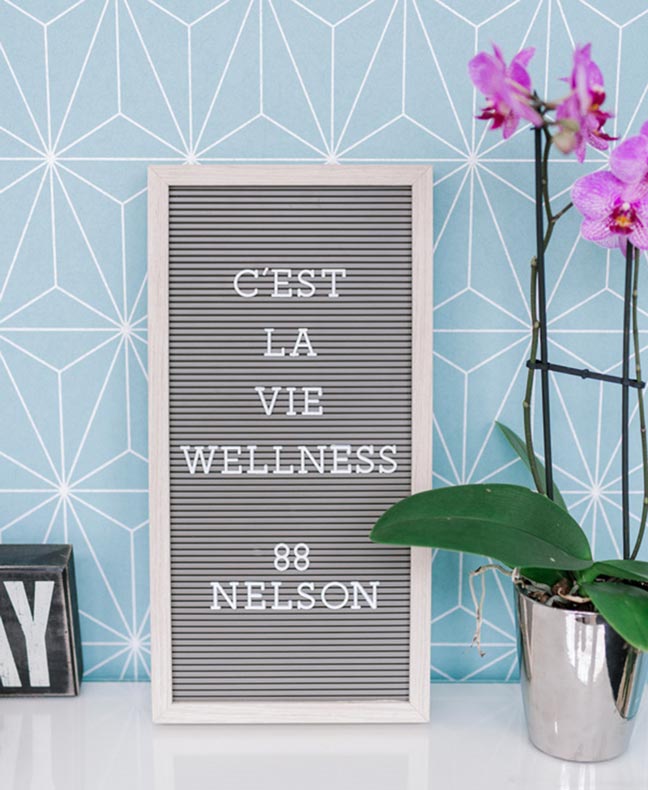 When it comes to food, the whole C'est La Vie Wellness team is on board. Some of us love to create while others enjoy testing some of our latest creations. Enjoy trying these recipes and please share pictures on your social media…and make sure to tag us! Bon appétit!