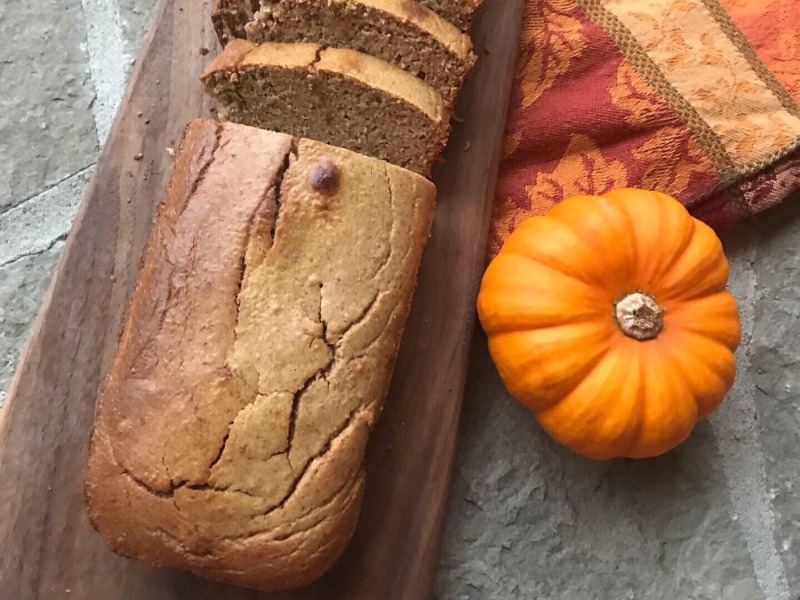 Got some pumpkin purée? We've got the perfect bread for it. This gluten-free, dairy-free version of a fall classic will leave you satisfied without the bloat. Coconut flour is very absorbent which is why you only need a little bit. Enjoy! 
Makes 10 servings
Prep time: 15 minutes
Cook time: 40-45 minutes
What you need:
3 eggs
3/4 cup almond butter (or do a combo of tahini/almond butter)
1/4 cup maple syrup
1/2 cup pureed pumpkin
3 tbsps coconut oil, melted
1/2 lemon, juiced
1/4 cup coconut flour
2 tsp cinnamon
1/3 tsp baking powder
1 1/2 tsp ginger, grated
1/4 tsp sea salt
What you do:
Preheat oven to 350ºF (177ºC). Lightly grease a loaf pan or line it with parchment paper.
Using a food processor or mixer, combine the eggs, almond butter, maple syrup, pumpkin puree, coconut oil and lemon juice. Blend until smooth and creamy. 
In a small bowl, mix together the coconut flour, cinnamon, baking powder, ginger and sea salt. Add to wet ingredients and blend until smooth.
Transfer the batter into the loaf pan. Bake for 40 to 45 minutes. (You can test if it is done by inserting a toothpick. It will come out clean when the loaf is finished.)
Remove the loaf from the oven and allow to cool in the pan for at least 15 minutes. Remove from the pan and let cool entirely before slicing. 
Bon appétit!
Useful tips:
Store in an airtight container in the fridge for 4 to 5 days. If not eating right away, wrap and store in the freezer.
Bake it as muffins instead. Baking time will decrease to 30 to 40 minutes.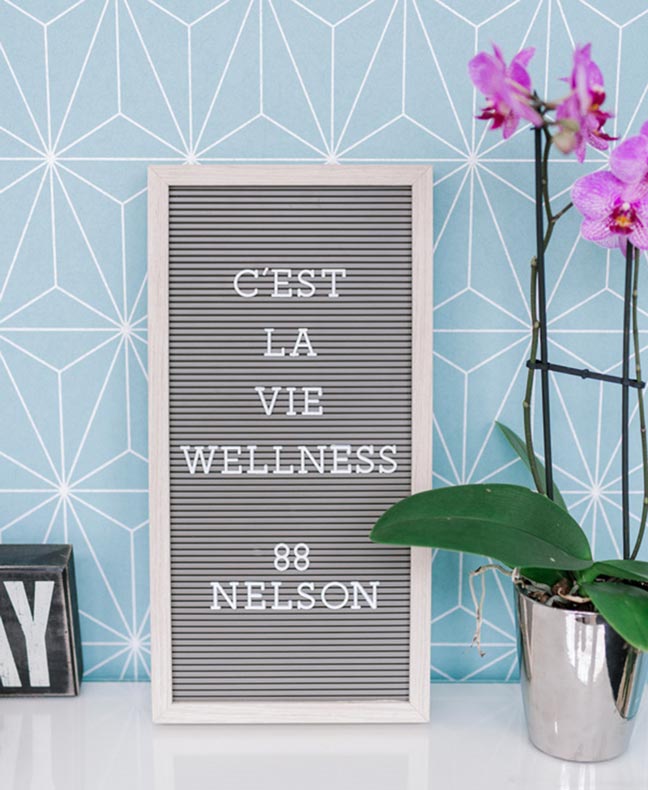 When it comes to food, the whole C'est La Vie Wellness team is on board. Some of us love to create while others enjoy testing some of our latest creations. Enjoy trying these recipes and please share pictures on your social media…and make sure to tag us! Bon appétit!