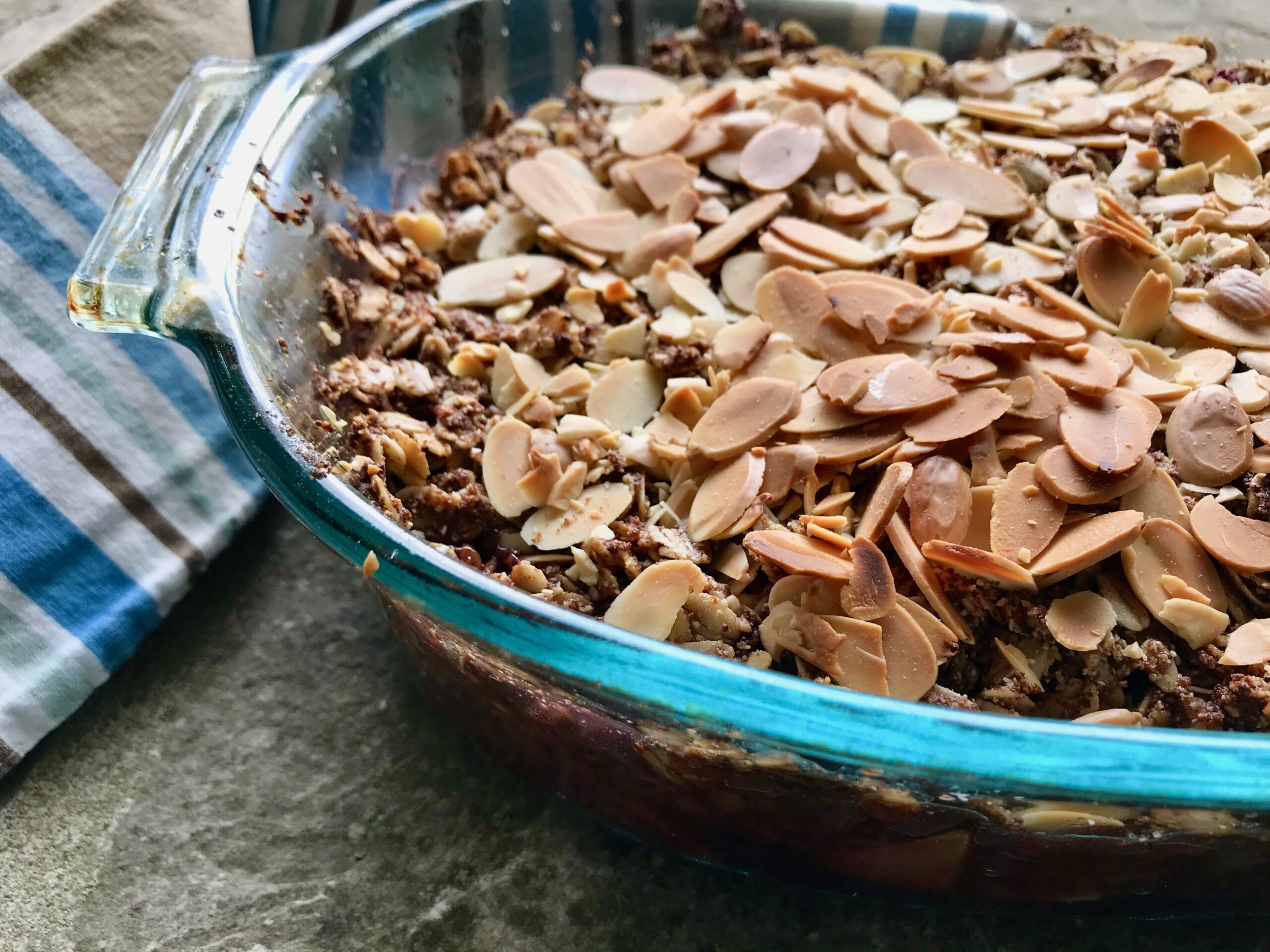 Love Your Rhubarb
You know that spring is here when rhubarb is available at your local farmer's market. This hardy plant grows wild in many areas of Canada and many people will grow it in their own backyard or garden. The stems are the edible part of the plant and the redder the stem, the less sour it will be. Rhubarb provides lots of fibre if eaten raw. It is a great source of calcium and vitamin K, as well as a good source of vitamin A & C, potassium, manganese and magnesium. (1, 2) Because of its sour taste, it is often combined with other fruits in recipes, as we did in our Tangy Fruit Crumble. We combined the tanginess of rhubarb with the sweetness of strawberries and the crunchiness of apples to give you a comforting dessert to enjoy on cool spring evenings.
This recipe is gluten-free and will be enjoyed by everyone in the family, including vegetarians. For a vegan and dairy-free version, replace the salted butter with coconut oil.
6-8 servings
Prep time: 15 minutes
Cook time: 30-40 minutes
What you need:
Topping:
1 1/2 cup rolled oats (large flakes)
1/2 cup almond meal (or finely ground almond)
1/2 cup raw coconut sugar
1 tsp ground cinnamon
6 tbsp organic salted butter, melted
1/2 cup sliced almonds
Fruit:
3 cups peeled and chopped apples
1 1/2 cup sliced strawberries
1 1/2 cup sliced rhubarb
1/2 cup pure maple syrup
2 tbsp lime juice
1 1/2 tbsp arrowroot starch
What you do:
Preheat oven to 350C. Grease a deep medium-sized baking dish.
In a medium bowl, combine the rolled oats, almond meal, cinnamon and sugar. Add the coconut oil and mix until you get a coarse, crumbly mixture. Set aside.  
In a large bowl, combine the fruit ingredients and mix well. Pour into the greased baking dish. Add topping spreading evenly over the fruit mixture. Sprinkle the sliced almonds on top.
Cook in the oven for 30-40 minutes or until fruit mixture is bubbly and topping is golden. Remove from oven and let cool slightly. 
Serve warm in small bowls and top with coconut whipping cream or ice cream.
Bon appétit!
Substitution tips:
Replace the rolled oats with quick-cooking oats.
For a vegan or dairy-free version, replace the salted butter with coconut oil.
Replace the sliced almonds with slivered almonds or chopped nuts.
Use any combination of fruit that is in season.
References:
"Rhubarb Recipe & Nutrition: Precision Nutrition's Encyclopedia of Food." Precision Nutrition, www.precisionnutrition.com/encyclopedia/food/rhubarb

"What Is Rhubarb Good For?" Mercola.com, foodfacts.mercola.com/rhubarb.html