Most commercial cookies are full of sugar and unhealthy fats. Our cookies pack up a nutritious punch and can be used as a healthy snack or even a healthy complete breakfast.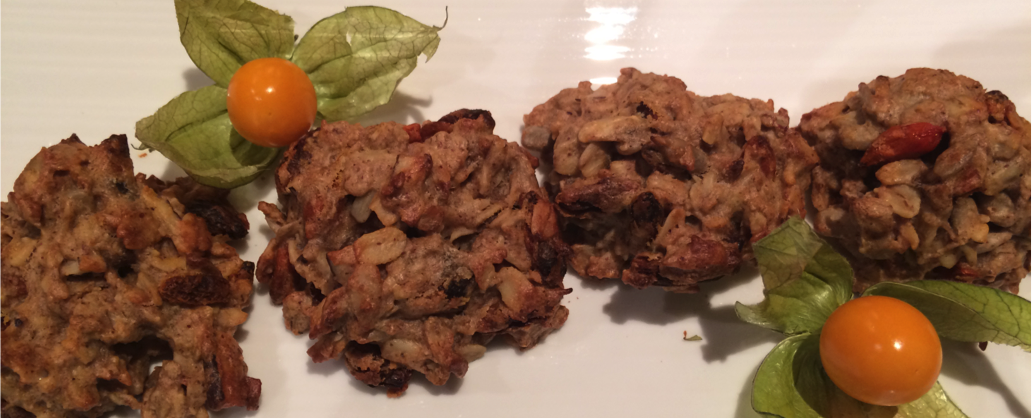 Makes approx. 15 cookies                    Prep time: 15 minutes                  Cooking time: 15-20 minutes
What you need:
– 1½ cups rolled oats
 (gluten-free)
– ½ cup coconut flakes
 (unsweetened)
– ½ teaspoon salt
– ½ teaspoon cinnamon
– ¼ cup of brown rice flour
– ½ cup almond butter
– ½ cup dried goji berries (or other dried fruit)
– ½ cup pumpkin seeds
– 3 ripe bananas, mashed
– ¼ cup melted coconut oil
 (or grass-fed butter)
– 1 teaspoon pure vanilla extract
What you do:
Preheat oven to 350 F. Line a cookie sheet with parchment paper.
In a large bowl, combine the oats, almond butter, coconut flakes, cinnamon, rice flour, goji berries and pumpkin seeds. Mix well.
In a medium bowl, combine the coconut oil, bananas and vanilla extract.
Pour wet ingredients over dry ingredients and stir until well mixed.
Using your hands or a spoon, form round cookies and drop on cookie sheet.
Bake for 15-20 minutes (depending on the size of each cookie) or until edges are golden brown.
Useful tip: You can play around with this recipe using various combinations of nuts, seeds and dried fruits.
For a printable version of this recipe, click Sugarless Breakfast Cookies.
Bon appétit!